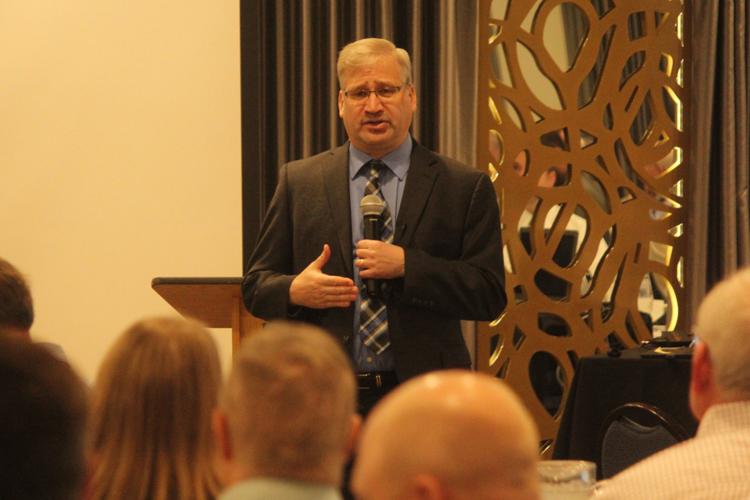 The new trade agreement between the United States, Mexico and Canada (USMCA) may benefit some local manufacturers, but the unknowns at this time outweigh the knowns.
In other words, it may be too early to tell.
Dave Jerovsek, president of diversified markets for Grand Haven-based GHSP, said the jury is still out.
"At this point we don't know," he said. "Some of it, from a government perspective, we're waiting to see how those details play out. We suspect there is going to be some positive impact, but we're waiting for the regulations to roll out to see what the impact is."
The majority of parts manufactured in Mexico are regionally based, Jerovsek said, and locations in the United States support the Detroit area and the eastern side of the country, "where most of the automotive action is."
From a regional perspective, he doesn't expect much impact.
"It's not that big of a deal," he said. "We're still waiting (on the details)."
Steve Moreland, president and CEO of Automatic Spring Products Corp., said he expects favorable results from the trade agreement.
"It's a very complex piece of legislation," he said. "There is a huge directional change from the perspective of vehicles built in North America."
Among its key points, the new agreement will require 75 percent of automotive parts come from North America by 2023. Today, only 62.5 percent are manufactured in North America, according to Moreland.
"This means they'll source more product here and less out of Asia or Europe," he said. "Any of us who have businesses built on supplying the automotive industry are likely to see long-term gains as this agreement will encourage car manufacturers to buy."
Employment numbers could also see a boost, according to Moreland.
"It will be slow – about a 12.5 percent change over a three-year period," he said. "It will start to drive behaviors that will affect our company and other companies like ours. We see it as an overall win. It's a win for America and a win for manufacturing."
Exact benefits are difficult to estimate, though.
"It's tough to predict, but it will be a meaningful percentage," Moreland said. "If they have to increase their supply by 12.5 percent in the big picture, I think that would have a similar impact on our market. If there's a 10 to 15 percent (gain) over the next several years, I would see a similar range."
He expects 10-20 new jobs could be added at his company over the next three years.
"It should mean more business and more employees and a brighter future," Moreland said. "I don't see any negatives."
Lee Brace, president of Jost International, said his company probably won't be affected by the new trade agreement.
"We make parts for semi-trailers and they're pretty much made in the U.S.," he said. "Probably 95 or 99 percent of our parts are made in the U.S."
Jim Wujkowski, general manager of NPR America in Grand Haven, which makes valve seat inserts, said his company primarily shops into the United States and Europe.
"Our supply base is right here in the U.S.," Wujkowski said. "I feel kind of lucky, I guess. We're positioned pretty well."
Dr. Paul Isley, associate dean of the Seidman College of Business at Grand Valley State University, said the USMCA could bring both positive and negative effects to West Michigan.
"There are things that are good and things that are bad for West Michigan," he said. "But the things that are bad are less bad than the uncertainty that existed without it. I think that's going to be a net positive."
Isley predicts the agreement will allow the automotive industry to start looking at supply chains across North America.
"They've been unwilling to invest in their supply chain because they've been unsure what it looked like," he said. "Now they know – build a factory here or don't build a factory."