Off the Record, nestled at 1114 Washington Ave. in Grand Haven's east-side Washington Square business district, is a vinyl maelstrom.
There are posters and decor lining every inch of the walls, which is easy enough to get lost in even before digging into crate after crate of records.
Owner Jon VanOss said vinyl is a more intimate way to engage with music, so shopping at his store should reflect that.
"I (tried) to make sure that there were no places for your eyes to get bored," he said. "If you come in here, no matter where you look, you're seeing a poster, you're seeing a 45 (record), you're seeing records on the wall, you're seeing CDs. I wanted to keep everyone's eyes busy when they come in here. And that's one thing I like – when people come in here and you see them looking around going, 'Oh, wow.'"
While the shop has been open for five years, VanOss bought it from the previous owners two and a half years ago, keeping the location alive. Its longevity in Grand Haven is a testament to how much VanOss said he loves both the city and the music.
It also preserves a format that sounds better to some, but he said vinyl goes deeper than that.
"There's no connection to me with digital music," VanOss said. "When you tap your phone to get some sound to come out of it, I don't feel like there's a connection there. With vinyl, you have a 12-inch item there that you're putting a needle down onto, you have big artwork, you have liner notes and all of the pictures. You just connect with it more."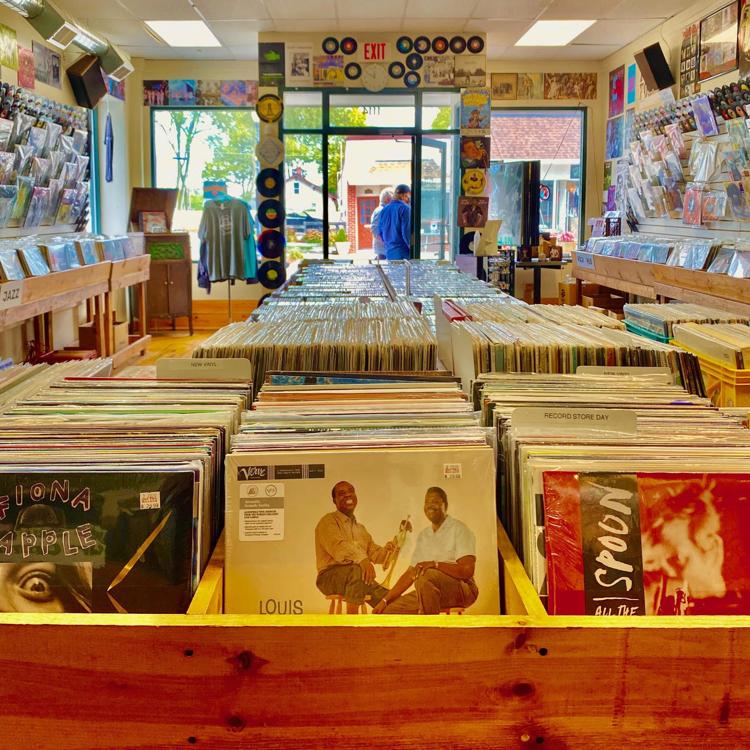 That passion for vinyl quickly turned into a slew of not just local regulars who have built a community with him, but customers who travel from as far as Grand Rapids to peruse VanOss' selection of records.
"They've become some of my best friends," he said. "I go over to their houses and have coffee with them. It's just the coolest thing ever to connect with people like that over a shared love of music and vinyl."
The pandemic has turned a lot of that sentiment on its head, though, as VanOss was forced to convert his open shop into curb-side pick-up service only for much of the year – something he has had to revert back to with Michigan's latest public health orders. Since then, business has gone down, he says, but regulars continue to support the shop.
"The biggest problem is that vinyl shopping is a tactile experience," VanOss said. "You want to come into the store, you want to flip through the bins, you want to put your hands on everything (because) there's a connection there that you don't get with digital."
Despite the challenge, VanOss has adapted. Because there is less of a chance to see used records before purchasing, he now carries more new releases. He also takes to Facebook, where he has been posting videos of "virtual flips" through new products.
As the holiday season draws near, VanOss said that there's no better time to shop local. All roads lead to him at Off the Record, so messages and calls get a personal connection that he said customers don't get online.
Given to the changing conditions, VanOss has taken to delivering records himself and continuing to educate fans new and old about vinyl. He says the community has made that job easy.
"The greater Grand Haven community has really been what has sustained this store," he said. "There is a lot of love in this town for music and a lot of love for vinyl here, too."