GRAND HAVEN TWP. — Singing and dancing to Abba music is coming to Grand Haven High School's Performing Arts Center next week.
The production of "Mama Mia" runs at 7 p.m. Friday and Saturday, Nov. 22-23; and at 2 p.m. Sunday, Nov. 24.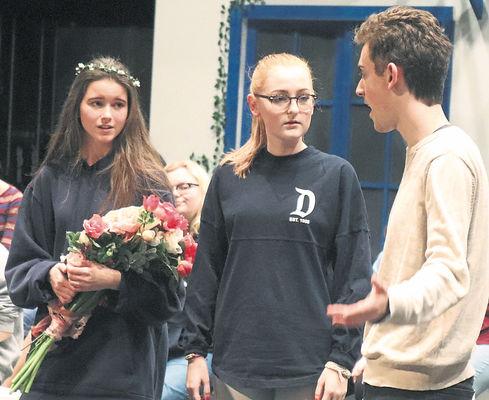 GHHS senior Sophia Bates brings to life Sophie, a 20-year-old soon-to-be bride who has always wondered about her dad. In hopes of learning who he is, the character invites three men who might be her dad to her wedding.
Bates said she's involved in the production because she enjoys putting a smile on faces, and doing so by using her gifts and doing what she loves is a "win-win-win."
"Mama Mia" is a show that senior Anna Bremmer has loved for the past few years, and she feels excited to be part of the cast. Although Bremmer has been involved in GHHS productions in the past, including starring as Ariel in "The Little Mermaid," she said it's been challenging to get into her character, Donna, a mother in her 40s.
In addition to performing fun songs, Bremmer said she's also enjoyed getting to know the rest of the cast.
Playing the roles of the three men who could potentially be Sophie's dad are seniors Daniel Bremmer and Garrett Breeden, and sophomore Owen Rabideau.
Breeden said he wanted to be involved in the show because theater is his passion and something he plans to pursue in college. He said there's a lot of singing and dancing involved in the show, which can be challenging.
Junior Audrey Trucks, who plays Donna's friend Tanya, said the show is going well and everyone has been dedicated to it. She said the best part has been getting to work with the "amazing" cast.
Student director Zoe VanBennkom spends rehearsals ensuring actors correctly say their lines, among other hats she takes on in the role. VanBennkom said she enjoys that she's able to be involved in the entire show.
When audiences attend "Mama Mia" performances, Anna Bremmer said she hopes they'll dance in their seats and have a good time enjoying the show.
Tickets can be purchased online through the Seat Yourself Icon on the high school's website or at the door before performances. Tickets are $12 for adults, and $10 for students and senior citizens.