SPRING LAKE TWP. — Peter Pan, the Lost Boys and Neverland are coming to West Michigan this week.
Spring Lake High School's theater department production of "Peter and the Starcatcher" runs Thursday through Saturday, Nov. 7-9, at the school, 16140 148th Ave. Performances are at 7 p.m.
The play brings to life the story of the origins of Peter Pan, Captain Hook and other characters, said senior Marissa Nienhouse, who plays Captain Robert Scott. Although it's a play, the show features three songs, according to senior Trever Vanstrate.
After wanting to find a hobby, Vanstrate, who plays Hawking Clam, got involved in theater during his freshman year. His first production was "The Lion, The Witch and the Wardrobe."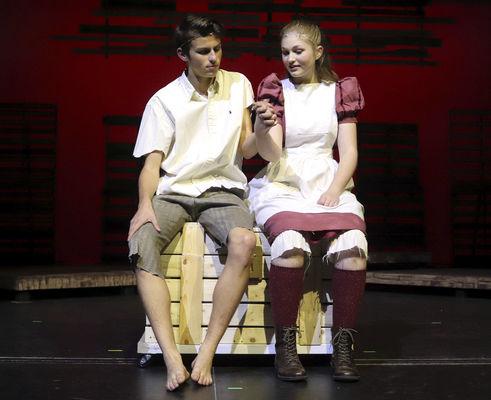 Vanstrate said he loves theater and the environment, and everyone he's met through it has been nice. He plans to continue theater has a hobby when he attends Western Michigan University next fall.
At a friend's recommendation, Nienhouse joined theater last year for the SLHS production of "Poe's Midnight Dreary." Nienhouse said she wishes she had been involved sooner.
Auditions were held the second week after the school year started, and the cast immediately began working on the production. Vanstrate said that though it's been hard work, they have fun together.
"We're just one big family," he said.
One lesson Nienhouse said she learned from the show is that though people might be afraid to grow up, it will be OK in the end.
Vanstrate said one lesson audiences might take away from the show is that though things might be bad, they will improve.
"You'll find happiness in the darkest of times," he said.
Tickets are $10 for adults and $8 for students and senior citizens, and can be purchased online at springlakeschools.org.