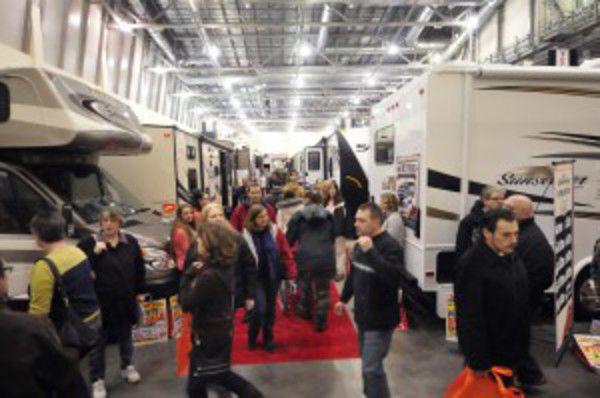 GRAND RAPIDS — Camping, glamping and all things outdoors will take the stage when the Grand Rapids Camper, Travel & RV Show opens today at DeVos Place, 303 Monroe Ave. NW.
Showtimes are 3-9:30 p.m. today, 12-9:30 p.m. Friday, 10 a.m. to 9 p.m. Saturday and 11 a.m. to 5 p.m. Sunday.
There's been a surge in interest in camping and traveling with your own sleeping quarters, with record-setting RV registration numbers in 2018 and 2019, according to the RV Industry Association. The Grand Rapids show is no exception.
"More young people are buying RVs than ever before, including millennials, couples and families with young kids," said the show's producer, Mike Wilbraham. "They're eager to unplug and get away from the high-tech emphasis in their daily lives."
Instead of virtual adventures on screens, families yearn for real adventures and time together, Wilbraham said. But it's not necessarily an either/or, as many late-model RVs offer high-tech capability, including smart televisions, internet and satellite television options.
"In general, RVs today are made better and engineered to be lighter, so there are a lot of models that can be pulled with minivans or SUVs," Wilbraham said. "No heavy-duty truck needed."
The show features 250,000 square feet filled with RVs ranging from motor homes to fifth wheels, travel trailers, ultra-light campers and more. Nearly 100 booths will showcase public and private camping and vacation destinations, as well as accessories and services. Free seminars will explore full-time RV life, Alaska trips, solar power, choosing the right RV and boondocking (camping without power, water and other conveniences).
"The show is about more than just the RVs," Wilbraham said. "We have exhibitors representing hundreds of destinations in the U.S. and Canada. It's really a vacation show. Vacations are an important part of our lives, and we think the best way to take a vacation – especially a family vacation – is in an RV."
Admission is $10 for adults (online) or $12 at the door, $4 for ages 6-14, and free for ages 5 and younger. 
Besides downtown ramp offerings, parking is available in DASH lot 9 on Seward Avenue, with free shuttle service to the show every eight minutes.