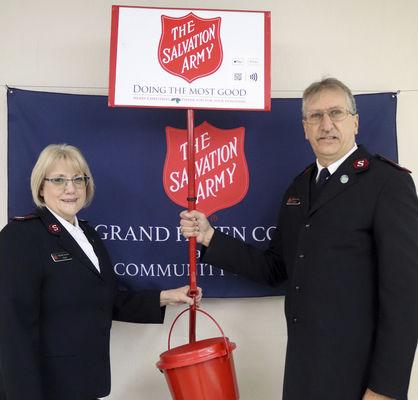 The familiar sound of ringing bells is returning to several local stores.
The 2019 Red Kettle campaign is underway for The Salvation Army. Kettles associated with the Grand Haven corps are located at the following locations: in Grand Haven at D&W Fresh Market, Fortino's, Walgreens on Beacon Boulevard and Walmart; in Ferrysburg at Leppinks; in Spring Lake at Orchard Market; in Coopersville at Family Fare; and in Allendale at Walgreens and Family Fare.
The 2018 campaign raised a little more than $37,000, according to Maj. William Holman. Funds raised go to support rent and utility assistance, shelter and food, and youth programs such as Summer Day Camp and C.H.I.L.L. (Community Completing Homework in a Learning Lab).
With the campaign underway, there are opportunities for volunteers to sign up and ring the bell. To get involved, visit www.registertoring.com and input the ZIP code for locations.
Although anyone is welcome to volunteer, there are some restrictions. A parent or guardian must accompany anyone age 16 and younger.
Shifts run 10 a.m. to 6 p.m. Monday through Saturday, and volunteers can sign up for days and times that work best for them. Anyone interested in earlier or later times can email Holman at william.holman@usc.salvationarmy.org.
Maj. Heather Holman said they prefer people to take at least a two-hour block, if not an entire eight-hour shift.
"It's best if they sign up for the whole day and get family or friends to help them out by filling in some hours," she said.
While they're looking for volunteers, there are some paid bell ringing positions available. Individuals interested in applying for those opportunities need a valid ID and Social Security card, and can apply in person at The Salvation Army office, 310 N. Despelder St., Grand Haven.