The impact the local YMCA has made in people's lives was highlighted earlier this week.
Tri-Cities Family YMCA staff and members gathered Wednesday night at the Mulligan's Hollow Lodge to celebrate the organization's annual campaign and its community impact, although the local Y is still working to raise the remaining $30,000 of its $75,000 fundraising goal for 2019.
Through its financial assistance program, the Tri-Cities Family YMCA provides $250,000 in free or discounted programs and memberships. Some of the services include 700 individual and family memberships; sports and aquatic programs for 130 youth, adults and senior citizens; and free lunches for summer campers who qualify.
This year, more than 400 children ages 4-17 enrolled in the Y's summer day camp. One in four of those children received financial assistance to attend through the annual campaign.
During Wednesday's celebration, several members shared the impact the Y had on their lives.
The Tri-Cities Family YMCA played a role in helping Molly's family when they moved to the West Michigan area after she left an abusive marriage. As she worked, searched for housing and relied on family for child care, Molly said she knew she needed to work more hours and have a better job for her family. When summer rolled around, Molly struggled to find care for her four children.
Molly was introduced to the Tri-Cities Family YMCA, which provided her children with full-day camp scholarships. Through the camp, her children had daily swim lessons, activities, lunch, snacks, splash pad visits and more.
With her children in camp, Molly was able to work more hours, become a homeowner and still spend more time with her children. Molly said the steps she took this summer "opened up a whole new world" for her family.
"I am indescribably grateful to each person who has touched the lives of my children and made this almost impossible journey we have been on a little bit easier," she said. "This resource has been life-changing for our family."
If women find themselves in abusive relationships, Molly said there are resources available to help them make it on their own.
Wally Harris spoke about the impact the Tri-Cities Family YMCA and its Body Basics Class had on his life. A Y member for 35 years, Harris initially joined to get in better physical shape and lost 30 pounds in the first year. When he and his wife retired, they joined the Body Basics Class, started running and entered races.
Body Basics meets three times a week and leads participants through weight lifting, core workouts and walks around the community. During their walks, participants have picked up cans and trash, and have raised money to donate to charities.
Given his fitness level and age, Harris was selected to be on the Governor's Council on Physical Fitness.
Barb Peacock, the class instructor, said it has become a "friendship club," as they've tried to make exercise fun. With the group's average age in the early '70s, Peacock said they inspire her to stay healthy.
David Redeker, the fundraising chairman, said the organization's mission to endorse a healthy spirit, mind and body for everyone goes beyond the walls of the building. He said it's a special place to be part of no matter your age.
"It's a haven and community where you can be part of something," Redeker said.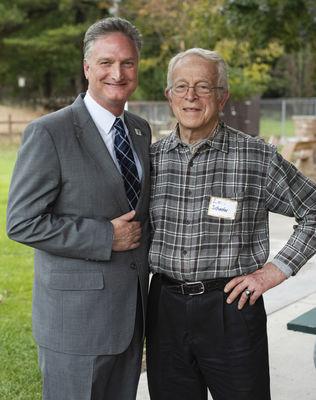 CEO Greg Coil spoke about the organization's first campaign. To kick off the 1963 campaign, Y officials that January ran the torch from Fruitport Road to the Armory in downtown Grand Haven. The torch remained lit until the first $15,000 of the goal was met, which happened that March. Coil noted that amount is valued at $125,000 today.
Dr. David Seibold, the first board chairman of the organization, brought the torch to Coil.
To donate to the Tri-Cities Family YMCA's campaign, visit its website at www.tcfymca.org and click on the "donate" tab, or contact Administration and Philanthropy Coordinator Elizabeth Huisman at elizabeth.huisman@tcfymca.org, or call her at 616-842-7051, ext. 228.