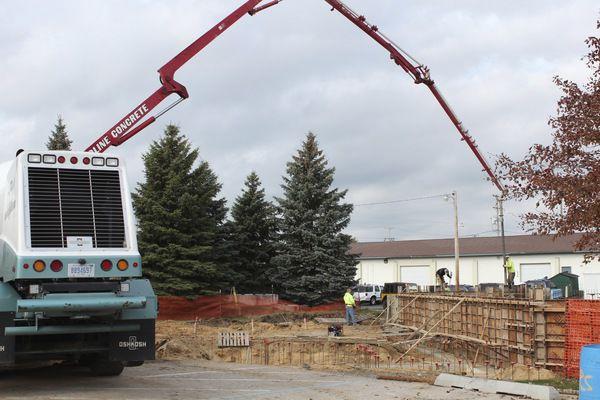 Commuters and homeowners along Waverly Avenue near Beechtree Street should see the road open again today after a closure this past week for work at Sluka Field.
Equipment has been moved in and out of the city park over the past several days, and concrete has been poured for the foundation of a new building on the site.
"The road was closed to bring in new utilities," Grand Haven Public Works Director Derek Gajdos explained. "New water and sewer lines were brought to the building."
Gajdos plans for the exterior brick work to be finished in the next couple of weeks and the roof to be in place before winter sets in.
The building was originally budgeted to be constructed at $350,000. A grant from the Michigan Department of Natural Resources Trust Fund covered $300,000 to help with improvements to concessions, restrooms and storage.
However, Gajdos said, the plans for the structure came back over budget. After making some cuts, the City Council awarded a contract that was $35,000 over what was originally budgeted for the project.
"We're going to use General Fund monies to make up the difference, as well as subtracting part of the contract," Gajdos said.
While the building is the current focus, additional improvements for Sluka Field are planned as more grants or funds become available.
"We have plans to add to and rebuild the other parts of the field," Gajdos said, noting plans are in the works for the dugouts; completing the parking lot; and adding decorative fencing, an entryway and lighting to the east-side park.