FRUITPORT — Each June, Jill Brott would get excited all over again to hand out diplomas at graduation. It was her favorite time of the year.
Corrine "Jill" Brott, a seven-year member of the Fruitport Community Schools Board of Education and a longtime teacher, died Sept. 9 from pancreatic cancer. She was 70.
On Monday, the Fruitport school board honored her by placing a single white flower on the table in front of her vacant seat.
Brott was a 1969 graduate of Fruitport High School. She spent nearly her entire life as a Trojan. She returned to Fruitport in the summer of 1985 and worked in multiple capacities including as a speech therapist and teacher at Shettler Elementary School, retiring in June 2010.
"She stayed in touch with her students, and that's what amazed me the most," administrative assistant Maribeth Clarke said. "She would have students in elementary and still be in touch with them as adults, checking on them. She was the kind of friend everyone wanted."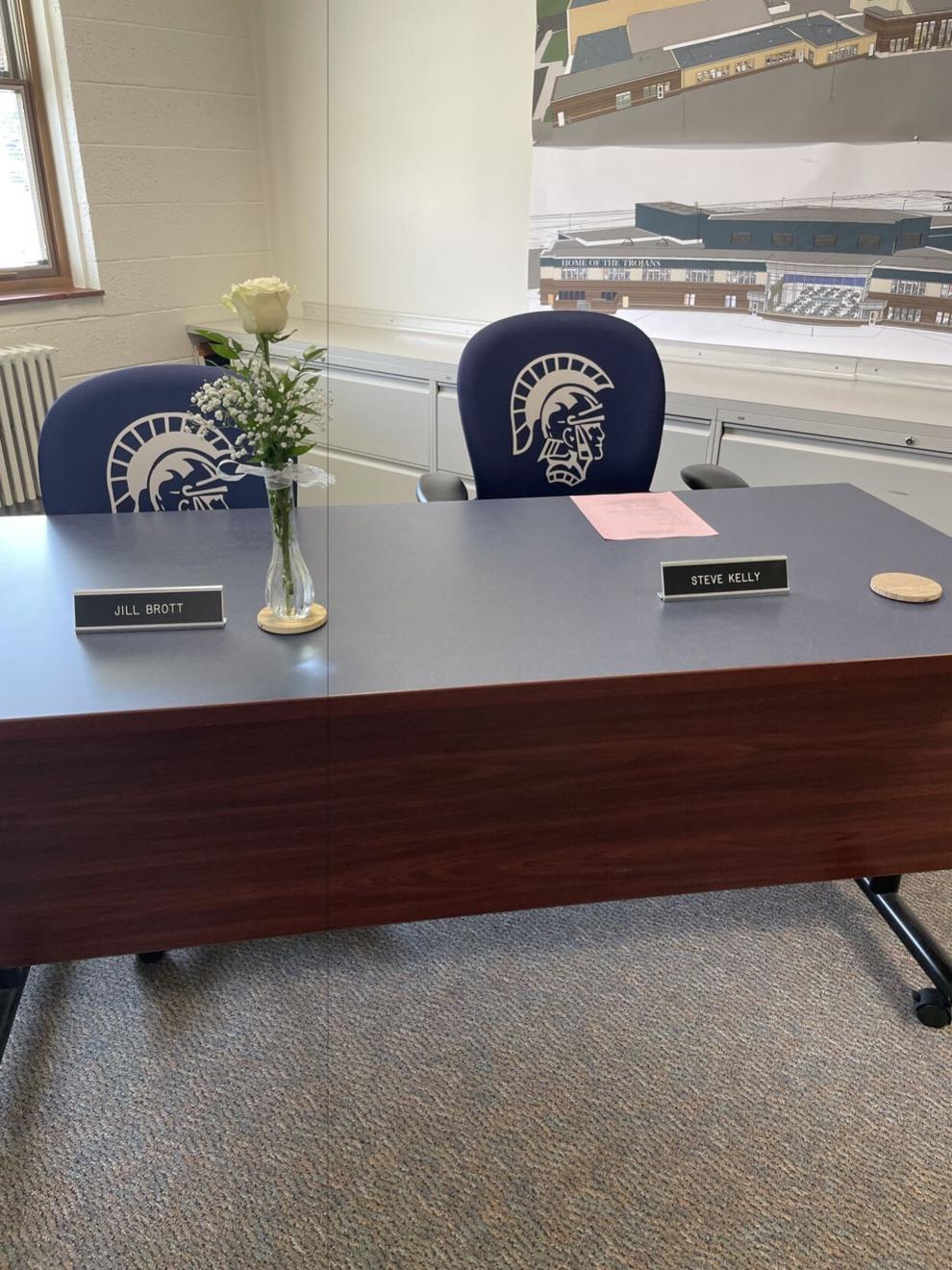 Brott's passion for Fruitport's school district was infectious, and her compassion for students and staff showed with everything that she did as a board and community member, Clarke added.
Fruitport school board President Dave Hazekamp says he knew Brott as a great person, and everything the district looks for in a board member.
"She was just a really good voice for all students and teachers of the community of Fruitport," he said. "She was very valuable and we're certainly going to miss her. Her passion was on curriculum and she was very impactful with the curriculum construction group. Obviously, with her teaching background, she brought a really clear voice to the group to tell what she felt was good for both teachers and students. She brought both perspectives."
"And she wasn't afraid to share her own perspective, there's no question about that," Hazekamp laughed.
The board is now seeking to fill the vacant position, which Hazekamp hopes to be appointed by Oct. 4. Hazekamp said they're looking for someone who brings the same commitment and excellence to the board as Brott did.
"Very few people fulfill what she brought," he said. "You really can't fill those shoes, let's be honest. But we're looking for someone who brings that same perspective Jill had because she was a teacher."
The board is seeking someone who has children in the district or is very actively involved with the school, according to Hazekamp. Having kids in the district's buildings adds an important element to the board.
"I anticipate that we're going to get some good responses to our search on this," Hazekamp said.
Candidates must submit a letter expressing interest in the board position and their qualifications to the district office no later than 4 p.m. Monday, Sept. 27. The appointment's term will end Dec. 31, 2022.