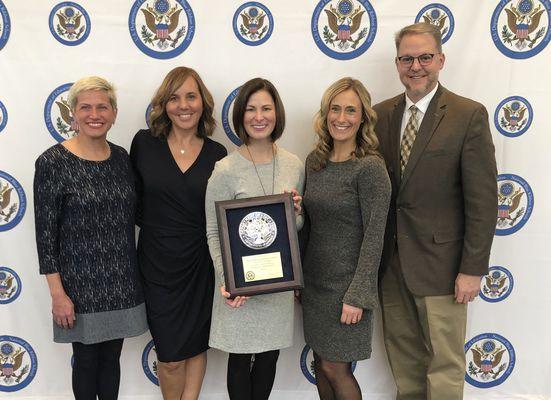 Trips to Washington, D.C., are becoming routine for Grand Haven Area Public Schools, as is national recognition for the district's commitment to student achievement.
Peach Plains Elementary School was honored in the nation's capital Nov. 14-15 with a National Blue Ribbon Schools Award, joining three other GHAPS elementary schools as an Exemplary High-Performing School.
"There are many reasons that Peach Plains achieved this national recognition," GHAPS Superintendent Andrew Ingall said. "But everything begins with the intentional efforts of our teachers and their focus on success for all." 
The school's partnership with the Reading Now Network is one example of this intentionality and focus, Ingall noted. Reading proficiency is one the key indicators for student success, and robust literacy efforts have a positive affect across subject areas. In 2016, the Reading Now Network brought literacy experts directly into Peach Plains, and helped teachers focus on identifying and incorporating literacy practices into every single lesson.
Teachers also improved their use of data to better inform intervention lessons and plans. As of February, overall test scores for Peach Plains students increased this school year by 15 percent.
"It was an incredible experience for our staff and school community to be honored in Washington, D.C.," Peach Plains Principal Kathryn Drake said. "Taking pause to celebrate our accomplishments created a sense of inspiration for all of us. But we're not done yet. We're still striving to give our students the best education, and being a National Blue Ribbon School affirms the work we do every day."
Along with Drake and Ingall, several district representatives traveled to Washington to accept the award: Mary Jane Evink, executive director of instructional services; Jennifer Kenny, literacy coach; and Annie Ratke, fourth-grade teacher.
The National Blue Ribbon Schools Program recognizes public and private elementary, middle and high schools based on their overall academic excellence or their progress in closing achievement gaps among student subgroups.
This year, 13 Michigan schools were named Exemplary High-Performing Schools. These schools have Michigan's highest-achieving students (top 15 percent) in English and mathematics, as measured by state assessments.