More Ottawa County residents will qualify for COVID-19 testing as a result of a recent innovation in the North Ottawa Community Hospital lab, said hospital spokesperson Jennifer VanSkiver.
"You no longer have to be that seriously ill to test," she said.
Screeners started accepting priority 3 cases – the general population with symptoms, but Ottawa County residents only – on Tuesday.
Dr. Lisa Hoekstra, director of the North Ottawa Community Health System's Urgent Care, credits the NOCH lab director, Nicole Kamp, with coming up with a way to split up the media in the test kits so that one kit could serve three people. That was done last week.
The missing link was that only one acceptable swab was included in each kit, Hoekstra said. Once federal officials came up with a list of comparable swabs over the weekend, the hospital was able to obtain a supply of the swabs so it could triple the number of people being served.
"I'm really excited," Hoekstra said.
The hospital also had to obtain extra tubes for the testing, and supplies are limited everywhere.
Officials from the state lab have verified that they are able to get results from the divided kits, Hoekstra said.
Not only will this allow medical staff the ability to test more people, it will also help the county collect data on the spread of the coronavirus. This means that the county can possibly stay in containment mode versus mitigation mode, which most of the country is now in, Hoekstra said.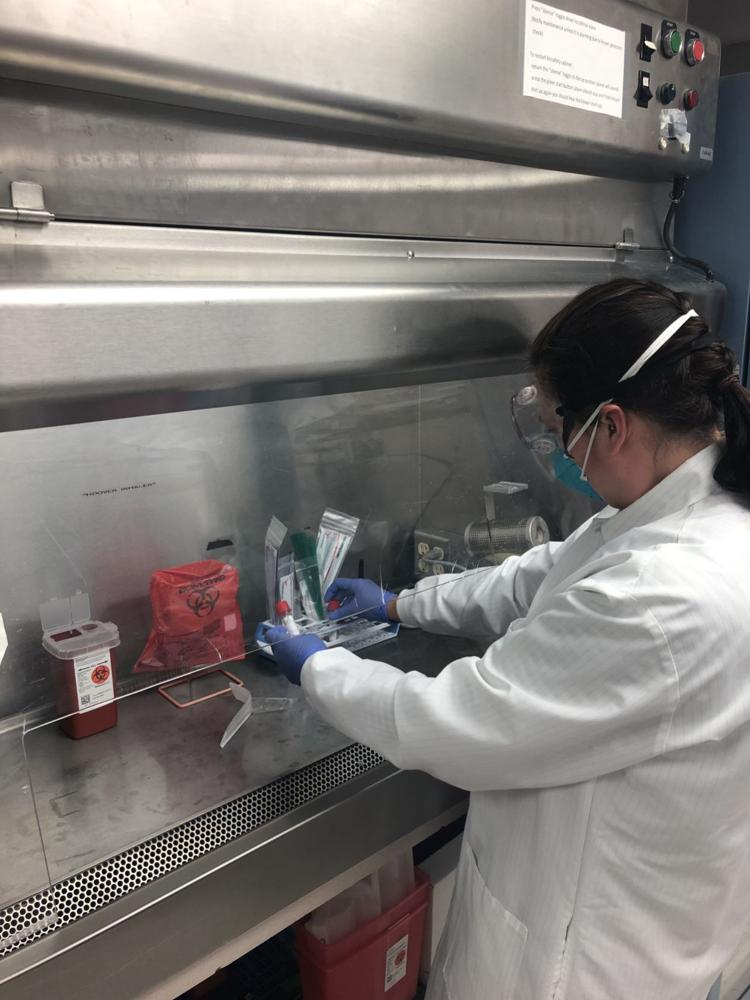 In mitigation mode, you are trying to keep down the number of deaths, she said.
In containment mode, you are still able to isolate the infected person, track down their contacts and isolate them, as well. When there are thousands of cases, such as in Detroit, everyone can't be tracked down.
Because of the limited number of tests, the state has directed that only priority 1 and 2 patients be tested. Priority 1 is health care workers with symptoms and hospitalized patients. Priority 2 is first responders with symptoms, people who live in group housing (nursing homes, group homes, dorms) and high-risk people. Priority 3 is the general population with symptoms.
Until now, Hoekstra said they have had to turn away residents with symptoms because they were not in the priority 1 or 2 categories.
"We got lots of calls. We were unable to test most of them," she said. "We were running between nine and 14 tests a day."
Hoekstra said she is hoping that number goes way up.
"I'm encouraging people who have COVID-19 symptoms to be tested," the urgent care director said. "People with a fever and cough should call the hotline," emphasizing that this is only for Ottawa County residents.
The hotline number is 616-935-7810. It is manned on weekdays only, from 9 a.m. to 5 p.m. If screeners determine a person qualifies to be tested, an appointment will be made to go to the drive-up test site located in front of the former Panera Bread location on South Beacon Boulevard, south of Taylor Avenue in Grand Haven.
Hoekstra said they still don't have unlimited tests.
"The tests the government says are coming have not arrived," she said. Hoekstra believes that most of them will be going to the virus hot spots.
Also, it can still take from one day up to a week to get back results. "It depends on how busy the lab is," Hoekstra said.
Testing of the priority 3 patients also goes to a commercial lab, which is in California. Hoekstra said they have expanded to some local test sites.
The 15-minute test from Abbott Laboratories, announced by President Donald Trump earlier this week, is not yet commercially available, Hoekstra said.
"We can't order them yet," she said, "and they will probably go to the hot spots once they are available."
While it is good news that the Grand Haven hospital can do more testing, Hoekstra said that it is still very important to adhere to the governor's orders to "stay home and stay safe," and parents need to keep their kids from going out, too.
"There is no cure for COVID-19," she said. "We have to do our part."