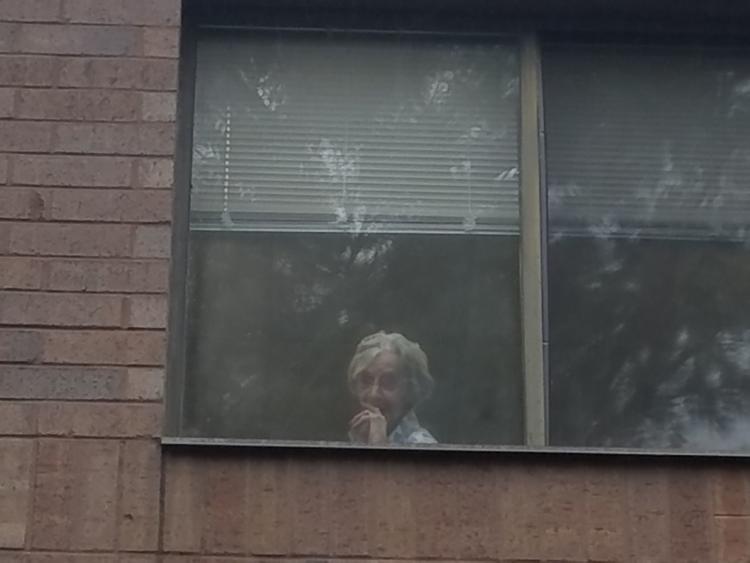 The Robbinswood Assisted Living Community staff member who tested positive for COVID-19 last week is doing well, according to the home's CEO, Don Trygstad.
More good news: The Grand Haven retirement home's 60-plus employees and nearly 100 residents have exhibited no symptoms of the virus, as of Tuesday afternoon.
"We just are more self-aware of each individual watching themselves," Trygstad said.
The Robbinswood staff monitors the residents' temperatures at least twice a day.
"We continue to take the temperatures of our employees," Trygstad said. "That's how we caught it."
On St. Patrick's Day, the affected employee's temperature registered normal when she arrived for work. Later in her shift, it started climbing toward 100 and she was sent home, Trygstad said.
Robbinswood Wellness Director Jolie Behmlander suggested the employee get tested for COVID-19, given her proximity to elderly residents. The results came back positive on March 23.
Behmlander said the employee is now doing well, though she remains off work.
"She is getting better every day," Behmlander said.
The employee declined an interview with the Tribune because "she is already worried about being ostracized," Behmlander said. "It's so hard. She has asked me a few times if people are saying anything. She really wants it behind her, and I can understand and respect that."
In a text to Behmlander, the employee wrote: "Just that I'm feeling much better and I'm just waiting for the Ottawa County health department director to give me my final directions to get released and I'll be back to work as soon as I can."
She reported: "It was like the flu, high temp, feeling very blah." Behmlander said she did not need go to the hospital and only needed "rest."
Behmlander said the employee could return to work as soon as this weekend, "but I'm not going to push it." The Robbinswood staff is enjoying overtime pay while the employee is out, Behmlander added.
"She thinks she caught it early because it never got any worse," the wellness director said.
Criteria for testing can include: high temperature, cough or other symptoms, and underlying health conditions.
"There is such a limited supply of tests, so many people that want to get tested, if they have any symptoms, they do have to have their own physician screen first," Behmlander said. "There is also a hotline to call."
Robbinswood went on visitor lockdown well before state and federal officials issued mandates.
"It's such a contagious, scary virus," Behmlander said. "I think people are finally starting to realize it is deadly. It doesn't just hit the elderly – it's all over."
These are trying times for health care workers, but Behmlander said she's proud of her staff, who pulled in this year's Grand Haven Tribune People's Choice award for the second consecutive year.
"Of course, there is stress," she said. "Being in the field, they understand the seriousness. But they are troupers. The front-line workers are our best assets. Their dedication shows by them coming daily, picking up any extra shifts and doing what they can to keep the residents' lives as positive as can be."
Behmlander said more than half of her staff has been there at least seven years.
"They know the residents," she said. "They know them personally – what they like, who they like, the care they need – and they are leaders. They plan and deliver the care from their experience. I love our staff. It takes a village."
As a "thank you" for all his staff is doing, Trygstad said they're giving employees jackets to celebrate their People's Choice honors.
"We've got a great staff and they deserve it," he said. "We were locked down before anybody. They're spraying the mail before it comes in. Like the health department said, you're above and beyond (with precautions). We couldn't amp anything up because we're already on full infectious control measures. That's how we caught the positive COVID-19 case."