Oct. 9 is a solemn day for the membership – veterans and Auxiliary – of VFW Post 2326, Grand Haven.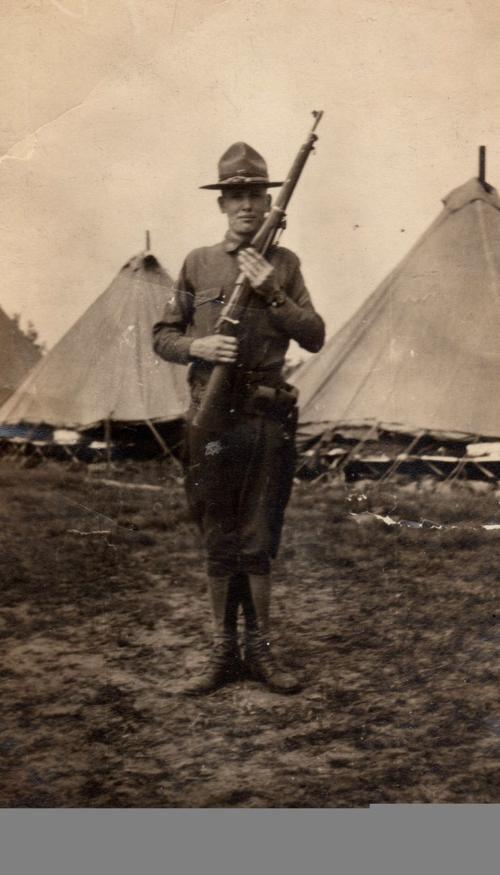 On this day in 1918, Post 2326's namesake, Alvin F. Jonker, made the ultimate sacrifice for his country. In honor of Jonker's bravery and heroism, the membership voted unanimously on Nov. 8, 1940, to name their beloved post the "Sgt. Alvin Jonker VFW Post 2326."
Who was Alvin F. Jonker? Where did his military career begin and end? His journey is one of patriotism, heroism and inspiration.
Jonker was born on May 19, 1894, in Grand Haven to Fred and Anna Jonker. He had three siblings: younger brother Hartger, and two sisters, Marie and Elizabeth. The family lived on Columbus Street in Grand Haven. Fred Jonker earned a living as a mason. The Jonker children attended Grand Haven public schools.
As World War I escalated in April 1917, Michigan National Guard's Company F in Grand Haven played an integral role in recruiting young men for military service. To encourage local enlistment, Company F organized a "patriotic meeting." Local officials, including Mayor William H. Loutit, businesses and citizens formed a Patriotic Meeting Committee for planning the event. An estimated 1,000 citizens assembled inside and outside of the Armory in downtown Grand Haven during the event.
At this time, Alvin Jonker worked as a mason and construction worker.
Prior to, and shortly after passage of the Selective Service Act in May 1917, the Department of War promoted the National Guard as a leg-up for those wanting to advance more quickly in the military ranks than those drafted. Alvin's brother, Hartger, enlisted in Company F and began training at Camp Grayling. Alvin continued working as a mason and planning his future with his fiancée, Alice Diephouse. In June 1917, Alvin registered for the draft.
In August of that year, Fred, Anna and Alvin Jonker visited Hartger at Camp Grayling. After a tour of the camp and discussions with his brother, Alvin felt an overwhelming sense of patriotism and enlisted on the spot. He was given a uniform and a few days furlough to tighten up loose ends at home and say goodbye to his fiancée.
After training at Camp Grayling, Alvin and Hartger Jonker boarded a train to Camp MacArthur in Waco, Texas. The train stopped briefly in Kalamazoo, where Fred and Anna greeted their sons to say goodbye and wish them luck. This would be the last time Fred and Anna would see Alvin.
At Camp MacArthur, Company F merged, and Alvin advanced in rank to mechanic. Alvin and Hartger completed their training at the camp under the new Company L, 32nd Division, 126th Infantry, in January 1918, then boarded a train to Camp Merritt in New Jersey.
After training at Camp Merritt, Alvin and Hartger embarked, on Feb. 17, 1918, for Brest, France, aboard the USS Grant. They arrived in early March. From Brest, the 32nd Division traveled south, by train, to St. Nazaire, where Alvin and his comrades learned the 32nd Division was not yet designated combat-ready. Alvin and his 32nd Division comrades served as dockhands, loading and unloading ships.
In April 1918, the 32nd Division was officially designated combat-ready, and was a welcomed addition given the massive German spring offensive was underway. Within six weeks of receiving combat status, the 32nd Division traveled by train, then hiked, to the 10th Training Area in Champagne, France. Training at the 10th Area ended in May. From Champagne, the 32nd Division traveled to Alsace, near the German border, and seized the Belfort Sector.
In early July 1918, the 32nd Division set up a position just north of Marne, France. Using a subterfuge of bogus trenches, which distracted the German Army, the 32nd Division stopped the German forces from advancing into France. The German Army's spring offensive was defeated. After a short rest, the 32nd Division was ordered to the Ourcq-area.
On July 30, 1918, Alvin Jonker and his comrades launched a successful assault across the Ourcq River against the German Army. This was considered an amazing feat given the river had risen significantly (8 feet deep and 40 feet across) due to heavy rains.
Alvin's reputation as a hero grew for repeatedly risking his life, during combat, by carrying his wounded comrades to safety. His selfless acts of bravery and heroism advanced him to the rank of sergeant.
In August 1918, the 32nd Division advanced to an area northeast of Soisson, on the Aisne River. For five days, the 32nd Division and French allies advanced onto German soil. The advance was successful in capturing German positions on the Juvigny plateau.
On Sept. 20, 1918, the 32nd Division boarded buses to the Argonne-Meuse front line, arriving Sept. 30, to heavy rains and poor roads. On Oct. 4, the 32nd Division and their French allies successfully penetrated the Argonne-Meuse front line.
During the evenings of Oct. 7-8, the 32nd Division set up positions east of the Bois du Chene Sector. On Oct. 9, the Division launched an all-out assault in the areas of Cote, Dame Marie and Romagne. During the assault, the 32nd Division was met with heavy machine gun fire. Alvin persisted in returning fire, moving forward, when suddenly a German machine gun bullet pierced his heart, killing him instantly.
Alvin F. Jonker was buried at Argonne-American Cemetery Romagne-sous-Montfaucon, Meuse. His parents opposed the idea of a National Cemetery in France.
In a letter to Secretary of War Newton Baker, Fred and Anna wrote: "Now France may be happy and proud to retain the bodies of the American boy who had fallen on her soil. But there is no one more intitled (sic) to the bodies then (sic) the mothers who gave all and also my son said to us the last words dead or live (sic) I want to be brought back to my home … and as we want him brought home as we was (sic) promised …."
Jonker's remains were transported from France to Grand Haven. On Sept. 4, 1921, he was buried at his final resting place in Lake Forest Cemetery, Grand Haven.