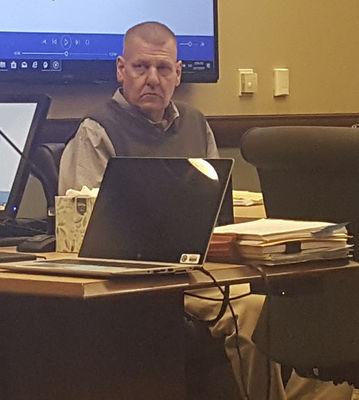 Jurors listened to several hours of recorded interviews on the fourth day of the trial of a Ferrysburg man accused of supplying drugs that caused the death of a Grand Haven woman.
Scott Allen DeBruyn, 56, is charged with supplying drugs that caused the death of 23-year-old Camille Marie Gesiakowski early in the morning of April 12, 2017. The case is being tried in Ottawa County Circuit Court.
The first interview heard Friday, between DeBruyn and Grand Haven Department of Public Safety Detective Bryan Tithof, took place at the public safety office not long after DeBruyn said he woke up and found Gesiakowski dead. During the interview, DeBruyn talks about picking up Gesiakowski in a taxicab, going to Walmart and picking up a number of items before going to the Baymont Inn in Grand Haven, where he said they planned to figure out what Gesiakowski was going to do with her life after just getting out of jail.
Early in the interview, Tithof cautions DeBruyn to be truthful with him, noting that he can use surveillance video from Walmart and from the motel, as well as cellphone records to corroborate what he has told him.
DeBruyn emphasizes that, despite police finding empty cans of duster in the motel room, he didn't know Gesiakowski had the duster. The only one he saw, he claimed, was the one near her head on the morning he found her dead.
Earlier in the trial, jurors viewed surveillance video showing DeBruyn, or DeBruyn and Gesiakowski, purchasing duster on at least three occasions in the few days after she was released from jail on April 7, 2017.
Tithof also questions DeBruyn if Gesiakowski had consumed anything else, such as narcotics, or smoked "weed," but DeBruyn said he was not aware of any such thing.
"That's not my history," he says during the interview. "I don't do drugs. I drink a few beers."
DeBruyn is asked about Gesiakowski's history of using duster or other drugs or alcohol.
"I've known Camille for probably eight years," he said in the police interview. "I've never known her to be straight."
The detective also asks to look at DeBruyn's cellphone to see if there might be anything in there that would assist the investigation. DeBruyn eventually says OK and asks Tithof to get a search warrant for it. He also supplies a password for the phone. Police then give him a ride to his West Spring Lake Road home.
The second interview takes place about nine months later at DeBruyn's residence. Since the incident, police have continued their investigation and told DeBruyn they wanted to clarify some information. DeBruyn continues to deny buying or supplying any narcotics, as well as supplying them to Gesiakowski.
Jurors were scheduled Friday to hear and/or view two more videos from April 17, 2019. One of those was the in-car video when DeBruyn was arrested. The second video was taken at the Grand Haven Department of Public Safety interview room.
The trial is expected to continue with closing arguments Tuesday.