Oak Lawn's village manager was involved in a hit-and-run crash in Chicago Ridge, Illinois, on Thursday night that critically injured a pedestrian, police said.
Chicago Ridge police responded to reports of a hit-and-run in the 10100 block of Harlem Avenue at around 8:30 p.m. and found a 48-year-old man unconscious in the northbound lane with what appeared to be a broken femur, Chief Robert Pyznarski said.
The man was taken to Advocate Christ Medical Center in Oak Lawn, where he is listed in critical condition in the intensive care unit, Pyznarski said.
Police obtained a description of the vehicle — a blue 2009 Ford Crown Victoria — from witnesses and through some investigation using cameras were able to decipher its license plate, which came back as registered to the village of Oak Lawn, the chief said. Chicago Ridge police then contacted Oak Lawn police and learned that Village Manager Larry Deetjen had been driving the vehicle, Pyznarski said.
Deetjen previously served as city manager in Grand Haven, Michigan.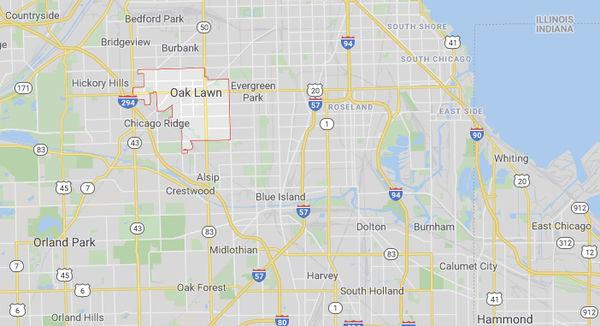 Chicago Ridge police then went to Deetjen's home in Oak Lawn, where he gave a brief statement claiming he did not know he'd struck a pedestrian, the chief said.
Deetjen told police he'd been driving in the rain with his windshield wipers on and believed he'd hit something while looking to his side, but assumed it was just a plastic barricade, Pyznarski said. The chief said Deetjen told officers he didn't see anything after feeling the impact and therefore continued on and thought nothing of it.
Deetjen was taken to the police station and administered a Breathalyzer test, which came back clean, and also a urine sample that was awaiting lab testing, Pyznarski said.
"It doesn't appear he had been drinking," the chief said.
Deetjen's vehicle, which had noticeable damage to its front right side, was towed back to the Chicago Ridge police station, Pyznarski said.
The chief said no charges have been filed at this point, but that the department would be reviewing the case with the Cook County state's attorney's office late Friday morning.
Oak Lawn police released a statement early Friday that acknowledged the crash and Deetjen's involvement in it, but did not note that he'd left the scene. The village's police chief, Randy Palmer, said that because the crash occurred in Chicago Ridge, Oak Lawn would not be releasing any further information about it pending its conclusion.
Deetjen did not immediately return a request for comment.