The Grand Haven Department of Public Safety and the Grand Valley State University Police Department are among an expanded number of law enforcement agencies participating in the next phase of a roadside drug testing pilot, which began Tuesday.
Over the past several years, Michigan has seen a steady increase in fatal crashes involving drivers impaired by drugs. In 2018, there were 247 drug-involved traffic fatalities. 
Each of the many departments across Michigan, including the state police, have employees trained as drug recognition experts. Every county in the state has at least one participating agency, officials said.
The first phase of the Oral Fluid Roadside Analysis Pilot Program was conducted in five counties and ended in November 2018. Participating counties were Berrien, Delta, Kent, St. Clair and Washtenaw. The initial program provided data on the performance of the test instrument when coupled with law enforcement-observed driver behavior and standardized sobriety field tests.
Although the study showed that the tool appeared to be accurate, officials said the overall sample from the initial effort was too small to draw any definite conclusions on its usefulness for law enforcement. In its February report, the Oral Fluid Roadside Analysis Pilot Program Committee recommended expansion of the pilot for an additional year to include all drug recognition experts in the state to allow a greater number of police departments to participate and to increase the sample size.
"This additional, statewide data will help to determine the usefulness of this tool for law enforcement, as we work to get drug-impaired drivers off Michigan's roads," said Lt. Col. Richard Arnold, commander of the state police's Field Operations Bureau.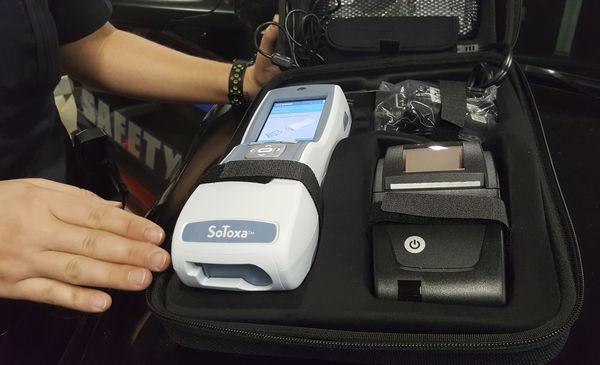 Under the pilot program, a drug recognition expert may require a motorist to submit to a preliminary oral fluid analysis to detect the presence of a controlled substance in the person's body if they suspect the driver is impaired by drugs. The preliminary oral fluid analysis will be conducted by the expert on the person's oral fluid, obtained by mouth swab, and will be administered along with the drug recognition 12-step evaluation currently used by experts.
The oral fluid test instrument checks for the presence of the following drugs: amphetamines, benzodiazepines, cannabis (delta 9 THC), cocaine, methamphetamines and opiates.
Ashley Bergstrom, the drug recognition expert for the Grand Haven department, said that a special cartridge is used to obtain enough saliva to conduct the test. It is inserted into the machine and within five minutes the officer will have the results. Another machine prints out a report.
Refusal to submit to a preliminary oral fluid analysis upon lawful demand of a police officer is a civil infraction, similar to what it a person would get if they refuse to take a personal Breathalyzer test for alcohol.