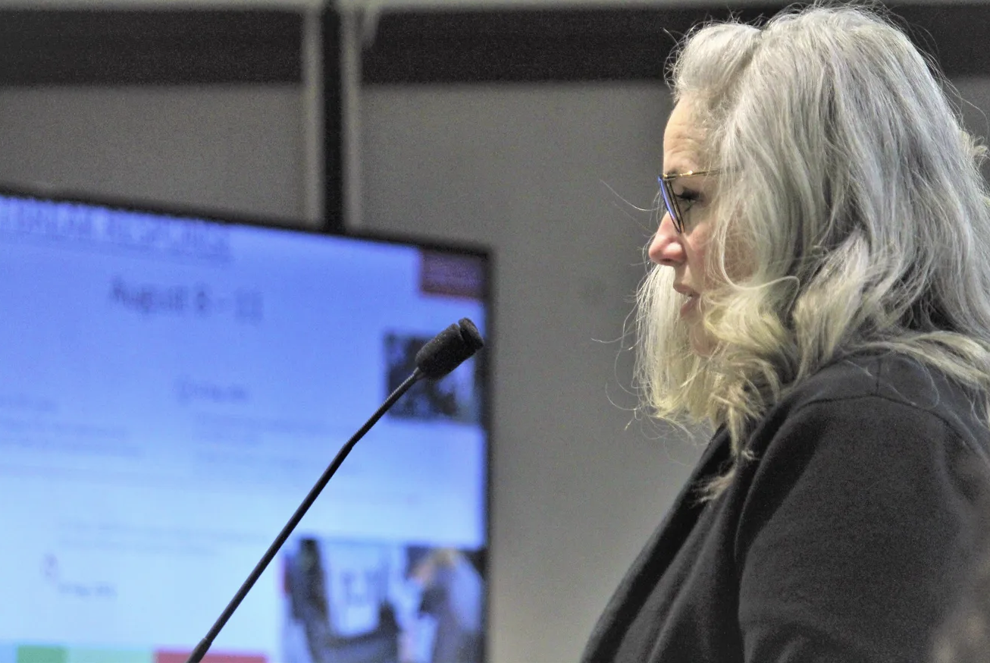 Seven commissioners being sued by Ottawa County's health officer have asked a Muskegon County judge to dismiss the claim, saying she was never appointed to the position in 2022 and therefore lacks legal standing.
In a filing on March 10, Kallman Legal Group filed a motion for summary disposition, asking the court to decide the case without a trial based on papers filed by either side.
Ottawa County Health Officer Adeline Hambley filed the lawsuit Feb. 10 in Ottawa County's 20th Circuit Court, claiming several Ottawa Impact-linked commissioners have repeatedly interfered with her ability to do her job and have overreached their authority by attempting to limit her state-authorized health duties. The case was assigned to Muskegon Circuit Judge Jenny McNeill after all Ottawa County judges recused themselves.
Ottawa Impact is an upstart far-right political group borne from clashes over the county's COVID-19 mitigation mandates in 2020. Its founders, Joe Moss and Sylvia Rhodea, were unsuccessful in suing the previous Board of Commissioners and the county's former health officer, Lisa Stefanovsky.
Hambley's suit names board Chairperson Moss; Vice Chairperson Rhodea; and commissioners Lucy Ebel, Gretchen Cosby, Roger Belknap, Allison Miedema and Rebekah Curran – all of whom voted to "demote" Hambley at the board's inaugural meeting Jan. 3.
Curran has since clarified she withdrew from Ottawa Impact in spring 2022 and did not receive financial or campaign support from the Ottawa Impact PAC like other defendants did.
The lawsuit argues the board improperly demoted Hambley to "interim health officer," a "constructive termination," on Jan. 3 – intending to replace her with their preferred health officer candidate, Nathaniel Kelly, who aligns with their beliefs and values.
Did the previous board vote to approve Hambley?
The move to challenge Hambley's legal standing as the official health officer was expected after Moss and Rhodea, along with corporate legal counsel Jack Jordan of Kallman Legal Group, assured other commissioners at a Feb. 28 meeting that a "correction" to the December 2022 board resolution that first appointed Hambley was merely a matter of cleaning up the record.
Moss, Rhodea and Jordan repeatedly stated the move was simply to "align" the wording of the resolution, the minutes and the video. When asked directly if there would be additional action, Jordan said it was up to the board. Moss didn't directly answer the question.
The motion was approved by a 6-5 vote, with Moss, Rhodea, Cosby, Ebel, Belknap and Miedema voting yes. Commissioners Kyle Terpstra, Doug Zylstra, Jacob Bonnema, Roger Bergman and Curran voted no.
On March 2, McNeill granted Hambley a temporary restraining order, preventing commissioners from removing her from her position until after a March 31 hearing. In that filing, Hambley said she feared the vote on Feb. 28 was an effort to "rewrite history" and nullify her hiring in order to gain an advantage in the lawsuit.
Now KLG, representing Ottawa Impact commissioners in the lawsuit, is, in fact, arguing the action taken on Feb. 28 nullified Hambley's hiring and therefore undoes her appointment.
"This case is predicated on (Hambley's) false assertion that she has been appointed permanent Ottawa County health officer. She is not and never has been. (Hambley's) complaint suffers from a complete lack of allegations, evidence and legal foundation," KLG wrote in a filing March 10.
The OI commissioners argue the resolution approving Hambley's appointment on Dec. 13 "did not accurately reflect the actual motion and vote that took place at the meeting."
They claim former Commissioner Phil Kuyers didn't read the resolution verbatim as it was written and prepared for the meeting. The appointment was "contingent upon approval by the board of commissioners," in addition to being approved by the Michigan Department of Health and Human Services, and that Hambley pass educational requirements and a background check. Even though the board voted to approve the resolution, KLG argues it didn't count as the approval required.
"The Resolution did not include the first contingency and thus violated the Open Meetings Act," KLG wrote in its March 10 motion. "Therefore, the current BOC on Feb. 28 corrected the prior Resolution ... to reflect the actual vote taken on the motion regarding Ms. Hambley, i.e., the corrected resolution included the requirement for 'approval by the Board of Commissioners.' ... This correction merely took the exact, word-for-word, language from the official meeting minutes and video record to ensure the Resolution explicitly and correctly matched that language."
Kuyers, no longer a board member, has addressed the board during public comment, saying the previous board never intended to vote again, which District 10 Commissioner Roger Bergman, District 6 Commissioner Kyle Terpstra and District 3 Commissioner Doug Zylstra – all members of the previous and current board – confirmed during the board's discussion.
"I can guarantee all 11 of us at that meeting voted to hire Adeline that day," Bergman said.
District 4 Commissioner Jacob Bonnema said during the meeting he felt it was "crossing the line" to alter items approved by the previous board. He announced March 13 that he'd severed his relationship with Ottawa Impact and will be moving forward as an independent conservative.
Hambley responds to new argument
In a response filed Monday, Hambley's lawyer, Sarah Riley Howard, pointed out the commissioners' position has changed.
"Defendants' apparent position – developed since plaintiff filed her complaint – is now that plaintiff was not effectively appointed as health officer," Howard wrote in her latest filing. "Defendants now have disputed only that (Hambley) was ever the lawful health officer of Ottawa County. This is a factual allegation that defendants manufactured with a post-hoc 6-5 board motion on (Feb. 28), creating the Revisionist Resolution."
Howard says the commissioners don't directly dispute the claim they can't fire Hambley without due process, which would require a public hearing and provide the opportunity for her to have legal counsel present.
That's a position two attorneys have shared with the county previously.
Both former county corporate counsel Doug Van Essen, in 2020, and former state Attorney General Mike Cox, in a parallel legal opinion in 2021, said the board could only remove the health officer if she was "incompetent to execute properly the duties of the office" or if she was "guilty of official misconduct or habitual or willful neglect of duty," but said the board could only pursue the latter two reasons after a hearing in which the health officer and her legal counsel could be heard.