Their first date was during the Coast Guard Festival, so when Toni Lyon and Kevin Reedey decided to tie the knot, they knew they wanted the Coast Guard to be represented in their ceremony.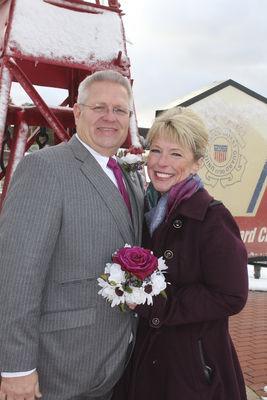 The two were married Thursday afternoon in front of the large red buoy in Escanaba Park, just to the west of Coast Guard Station Grand Haven.
"We had our first date at Coast Guard Festival three years ago, in 2016," Toni said. "Because of that, and the fact that we live in Grand Haven and it's Coast Guard City, we just wanted to make it special and commemorate the moment we met."
They were looking for the perfect spot to hold their wedding ceremony and, during a walk along the waterfront, saw the bell and the buoy near Escanaba Park, as well as the signs reading "Grand Haven, Michigan" and "Coast Guard City, USA." 
The intimate ceremony also included Toni's father and his wife; their best friends, Tim and Sherie Armstrong; and Michelle Dixon, who served as the officiant.
Outdoor weddings in November are unusual, and the couple woke up Thursday morning to see a fresh layer of fluffy snow on the ground. By late afternoon, a frigid wind was blowing off Lake Michigan, but they bundled up against the cold and carried on. 
Toni explained that her dad and his wife leave for Florida later this month, and that her youngest daughter was married in late October, so she and Kevin wanted to fit their wedding in the small window between those two events.
"Before Kevin proposed, he asked for my dad's blessing – very old school," Toni said. "My dad is 77 and he's one of my best friends. If, God forbid, anything happened and he wasn't there to know Kevin and I had joined hands, it would break my heart."
This will be the fourth marriage for both Toni, 50, and Kevin, 55. Together, they have five kids and seven grandchildren. Toni's bouquet featured five flowers representing their children and seven other flowers in honor of the grandchildren.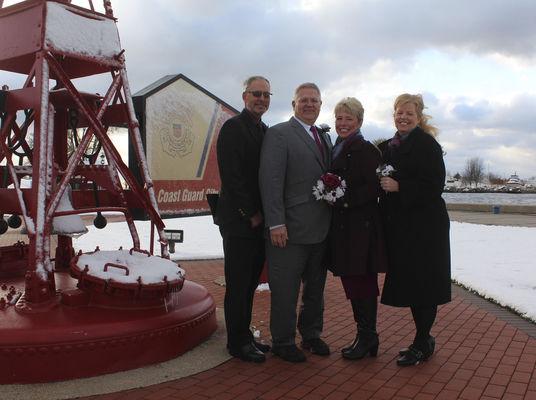 Kevin is a dispatcher for Brenner Oil in Holland, while Toni is the manager of a medical weight loss clinic in Norton Shores.
After previous marriages ended poorly, neither thought they were cut out for married life, they said, until they met each other.
"We both said we were never going to get married again, and if we did, it was going to be our fourth and final," Toni said with a laugh. "You learn what love is, and can appreciate each other. You know when you have your best friend who you're going to grow old with. You just know."