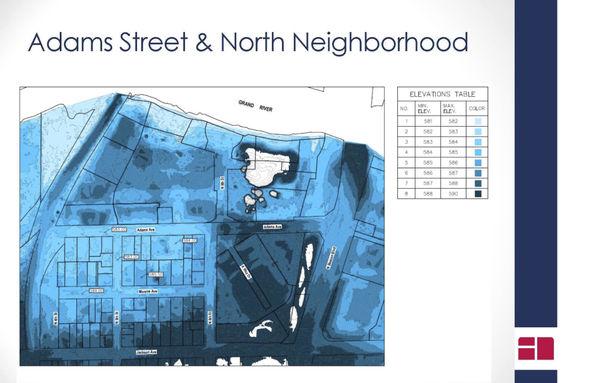 After a fall filled with rain, members of Grand Haven's City Council have directed for research to be done and options to be brought back to help clear water on roads in one city neighborhood.
During a special work session Monday night, council members heard from Tony McGhee, of the Abonmarche consulting firm, about possible remediation of the neighborhood from Adams Street to the Grand River.
"Lake Michigan is so high, as is the water in our communities and water tables," he said. "If you are under 33 years old, you have never seen it this high. If you are under 101 years old, you have never seen it higher than it is right now. We are in conditions that we have hardly seen in the last century."
In the neighborhood from Adams to the river, McGhee said these high water levels, as well as the ground being saturated, have caused water from private properties to flow onto city streets. With conditions as they have been, and with officials predicting water levels starting out 11 inches higher in 2020 than in 2019, this problem will not be going away anytime soon, he told the council.
Three options were presented during the meeting – a permanent fix, increasing the storage capacity of the current stormwater system, or a plug-and-pump plan. Each comes with a price tag ranging from $1.5 million up to $5.3 million.
The first option, estimated to cost between $5.1 million and $5.3 million, would create a stormwater management system, including a pumping station and forcemain.
The second option, costing between $3.25 million and $3.75 million, would require installing a receptacle, or cistern, to hold excess water until levels recede, then pumping the water back into the current system.
As for the third option, costing $1.5 million to $1.75 million, valves or backflow preventers would be placed to keep water from flowing into discharge pipes. Water would be pumped around existing outlets and into the river.
None of the options presented would help homeowners with flooding on their properties due to high groundwater levels, McGhee said.
"Moving forward, we have two options," he said, noting the city could wait to see if water levels go down over the next few years or explore the options presented and more. "There is no inexpensive, easy way to deal with what you're dealing with."
No decision was made on the options that were presented Monday night.