MUSKEGON — Residents of the greater Muskegon area are lacing up their shoes and brushing up on their dance moves.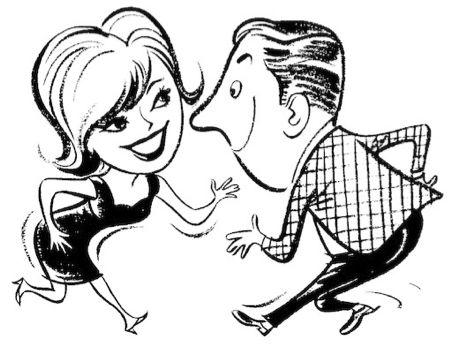 Forty-two "stars" will join 11 "professional" dancers for the 12th annual Dancing with the Local Stars at the end of February.
The Women's Division Chamber of Commerce's event supports food pantries and programs in upper Ottawa and Muskegon counties and lower Oceana County. More than $1 million has been raised for the pantries since the event started.
The shows will take place at Delta Hotels by Marriott in downtown Muskegon at 7 p.m. Feb. 27-29, with a 1 p.m. matinee Feb. 29.
Event co-chairwoman Mary Kendall says the event is one that people can count on to "make an impact in a fun and engaging way."
"Our mission through Dancing with the Local Stars is to give back to our community," she said in a press release.
"We help stock the many empty food pantries after the holidays when they're at their leanest. No one in our community should ever go to bed hungry."
In addition to learning dances, cast members aim to raise money by distributing boxes around the community to raise funds, which will be counted toward their favorite food program and pantry charity.
Fruitport Community Schools Superintendent Bob Szymoniak is among the "stars" participating in this year's movie-theme show. His friends who previously participated in the program encouraged him to get involved.
Although Szymoniak doesn't have dance experience, he said he has rhythm, which he considers a plus.
"This will be a great way to get some exercise, make new friends, and ultimately help our community help those in need through support of local food pantries," he said. "Beyond dancing, I hope to raise funds and would welcome any and all donations from the community."
After years of dancing for fun, Melanie Swiftney had an interest in getting involved with Dancing with the Local Stars. The director of marketing and communications for the Grand Haven Area Community Foundation is among the "stars" for the 2020 performances.
When Swiftney lived in Chicago during the 2000s, she went salsa dancing at least once a week for four years.
Swiftney started out wanting to learn the basics, she said, and dancing soon became her "thing." In addition to getting exercise, Swiftney said dancing is also an opportunity to meet a diverse group of people. In joining this year's cast, Swiftney said she's looking forward to meeting people beyond the Tri-Cities area and raising money for food pantries.
Rehearsals are underway for "stars" and "pros."
"It takes a lot of hard work and dedication to put on an event like this, and these teams are ready to put the time in, once again, to help us feed the hungry in our communities," event co-chairwoman Marilyn Forton said in a press release. "This is what truly makes them stars."
Tickets are $45 for evening performances and $35 for the matinee. Tickets go on sale Jan. 2 and can be purchased by calling 231-798-4244.
This year's Grand Haven-area stars also includes Angie Lindeman, a registered nurse and case manager at Review Works.
The full list of "stars" includes:
Trisha Allen, a pharmacist at Mercy Health Pharmacy
Dr. Tabatha Barber, Functional Medicine for Women at PrivaMD Physicians
Kim Bassett, lead meeting planner at Amway Corporation
Christy Belanger, a fifth-grade teacher at Ross Park Elementary School
Erin Blais, owner and operator of Lakeshore Academy of the Arts/Blais Dance Academy
Lisa Bluhm, Women's Christian Health & Life Breakthrough Coach & Fitness Instructor
Jill Bonthuis, executive director of Pioneer Resources
Billie Carey, a registered nurse at Mercy Health and zumba fitness instructor
Lindsey Cousineau, regional director at CarNow
Kristi Eigenauer, a third-grade teacher at Ross Park Elementary School
Kelly Ellis, a fifth-grade teacher at Ross Park Elementary School
Kari Fuller, director of the Coopersville Area Community Foundation
Matt Gongalski, co-owner of Rad Dads' Taco & Tequila Bar
Kim Gaver, a Young Fives teacher at Ross Park Elementary School
Staci Geiger, a financial advisor at Raymond James & Associates, Downtown Muskegon
Meghan Heritage, owner of BlueWest Properties
Nicole Jimenez-Smith, cardiovascular technician, Mercy Health, and a Muskegon Charter Township fire fighter
Nate Johnson, reentry and outreach director for Fresh Coast Alliance
Addy Kinziger, registered dietitian, pastry chef, college instructor, owner, NOVA Super.Natural.Bakery
Erin Kuhn, executive director of West Michigan Shoreline Regional Development Commission
Tom Langton, a physician's assistant at Spectrum Health Geriatrics in Byron Center
Dave Lehner, branch co-manager and loan officer at Michigan Mortgage
Courtney Leibrandt, owner of Vintage Redefined
Angie Linderman, registered nurse and case manager at Review Works
Kendra Martin-Terrell, agent, Durga Insurance Group, Farm Bureau Insurance
Brian McKeown, owner and operator of The UPS Store
Jill McMahon, a fourth-grade teacher at Ross Park Elementary School
Jim Mines, owner and agent at Anchor Group Insurance
Heidi Naperala, founder and CEO of PrivaMD
Ogema Larry Romanelli, Ogema of the Little River Band of Ottawa Indians
Jonathan Seyferth, Coopersville City Manager
Dawn Shank, medical social work at Hospice of Michigan
Nancy Susterich, a second-grade teacher at Ross Park Elementary
Melanie Swiftney, director of marketing and communications for the Grand Haven Area Community Foundation, and author
Tammy Sylvester, a fifth-grade teacher at Ross Park Elementary
Dr. Andrew Szatkowski, chiropractor at Fruitport Chiropractic
Bob Szymoniak, Superintendent of Fruitport Community Schools
Mark Taylor, president of Taylor Office Furniture
Lisa Tyler, communications director at Senior Resources
Mickey Wallace, executive director of Kemetic Kings Mentoring
Patti Winsemius, dance instructor at Cassell Training Center
Sue Young, a retired third-grade teacher/substitute at Ross Park Elementary
Dancing "professionals" include:
Matt Bradfield, a senior test engineer at Hilite International, one-year participant
Francine Calandro, fitness specialist and personal trainer at AgeWell Services at Tanglewood Park, 12-year participant
Lisa Jirikovic, physical therapist, 12-year participant
Patrick Johnson, PT Arts, LLC Consulting Co-Owner & West Michigan Flight Academy President & CEO & Retired Dance Faculty Instructor Grand Rapids Community College, 12-year participant
Chris Kuhn, co-owner and president of Seal-Tec, two-year participant
Scott Mehlberg, an applications engineer at Burke E. Porter Machine Company, one-year participant
Sandy Nolan, owner and independent contractor of Sandy Nolan Kitchen & Bath Design, two-year participant
Hon. Brenda E. Sprader, Muskegon County Probate Judge and professional dancer and instructor, 12-year participant
Carly Switzer, diagnostic medical sonographer at Spectrum Health Butterworth and Blodgett Hospitals, seven-year participant
Mary Switzer, THE GYM owner and trainer, 11-year participant
Andrea VanBeek, RN case manager/preceptor at Mary Free Bed at Home, five-year participant