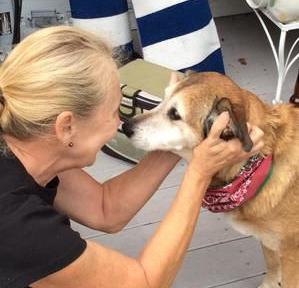 A feral dog that stole the hearts of many local residents in recent years has passed away.
But this is not a story of grief as much as it is a story of thanks — from the adoptive owner, the dog, and the people who loved her and helped her.
The dog roamed the area north of Jackson Street and east of Beacon Boulevard for years, often being spotted near Rycenga Lumber, Lake Michigan Credit Union and Applebee's. The canine, whom locals nicknamed Rusty and was later renamed Haven (after Grand Haven), was a popular discussion topic on a local social media site in recent years.
People left food for the canine near Rycenga Lumber, and boaters at Rycenga Marina and city Department of Public Works employees would do the same, but no one could get close to the dog.
Ann Turchan learned about the dog about three years ago. The Spring Lake Township woman, who owns two rescue dogs, started visiting the rock pile behind the credit union to leave dry food for the dog. Turchan said there had been multiple reports of a stray dog almost getting hit while crossing Jackson Street.
Turchan, a devoted follower of the Devoted Barn near Monroe, which provides a home for feral animals, talked to owner Melissa Borden about the Grand Haven dog's plight. With advice from Borden, Turchan started visiting the dog's roaming area twice a day. She'd lie down on a blanket and wait for the animal to approach. She'd wear the same clothes every day and bring the same blanket every day.
Offerings escalated from dry dog food to pot roast, rump roast and cheeseburgers.
Eventually, the dog warmed up to Turchan. She took videos with her cellphone, which she would send to Borden for her expert behavioral advice. After observing the canine's behavior, Borden would tell Turchan what to do next.
"The first success was to get him eating off a 12-inch-long wooden spoon," Turchan said. "Then, a regular dinner spoon. Then, I switched to my hand. It was guiding the trust."
Finally, Borden recognized it was time. She drove to Grand Haven to meet the dog in early 2017.
Turchan laid out her blanket. Borden joined her. After about 30 minutes, the dog approached. They were able to contain her, and bring her to Devoted Barn, where Borden rehabilitated her and got her used to human contact.
Borden said she's amazed at how quickly the dog adapted to domestic life. So quickly that Borden placed Haven with a Devoted Barn employee. That employee, Deb Kennedy, decided to keep Haven and give her a permanent home.
Haven learned to love and trust again.
"The first time I saw her picture, those big, sad eyes melted my heart," Kennedy said. "When I met her, she began this serious barking at me, nonstop, as if she was trying to tell me something."
"I felt like she wanted me to take her home," she said. "I knew she was feral, a senior, not house-trained and probably wouldn't let me put a collar or leash on her, but she kept on with that persistent bark. I went and got a lead and told her I was going to take her home with me."
Surprisingly, the dog stood up, walked out of the barn, and jumped into Kennedy's truck and rode home with her, "like she had done it a million times before."
Haven quickly formed friendships with Kennedy's other three dogs and became part of the family.
"It was amazing how fast she became a house dog," Kennedy said. "She was like a shadow following me from room to room. Her quiet demeanor made her so easy to love."
A vet estimated Haven to be at least 10 years old when he entered Kennedy's life. That would make her at least 13 when she left Kennedy's life – the equivalent of a 91-year-old human.
"The last six months, she started to look frail, became more hard of hearing, her eyes were clouding over and her fur began to hang around her neck," Kennedy said. "Her age was catching up with her. Then came the weakness in her legs, causing her to fall frequently. I was carrying her in and out to go potty, then she would just lay in the snow and wouldn't get up."
The next day, Nov. 14, as much as in pained her, Kennedy did what she knew she had to do — for the love of Haven.
"I took her to the vet," she said. "I knew it was her time, but I wanted the vet to help me make the decision. It broke my heart seeing her suffer. She was old and had grown tired. It was time. She left this world in peace, knowing she was loved.
"All those years she never had human touch, but the last three years of her life, she had many friends and family members that loved her dearly," Kennedy added.
Kennedy said she is thankful for all the love Grand Haven residents showed her dog during the difficult years – Haven's lonely days.
"I bought her a Grand Haven T-shirt that I put on here when it got chilly," Kennedy said. "I actually threw it in the wash today and cried. I will keep it and remember her always. She was such a trouper, a survivor. I feel blessed that she picked me to be her person. She taught me that anything is possible."
Last Sunday, Turchan posted this on a local social media site: "It is with great sadness to share that Haven has crossed over the rainbow bridge. Her last years, she was dearly loved and lived in a loving home with fur brothers and sisters. She slept in a bed with her owner every night. Thanks to everyone who loved her. Debbie, who adopted Haven from The Devoted Barn, loved her and made sure she was comfortable to the very end."
Grand Haven-area residents are posting heartfelt sentiments on social media about the feral dog who learned how to belong again.
"From their stories, she lived on the streets for eight years before I rescued her," Turchan said. "I used to leave food in the winters by the rock pile behind the old Blockbuster (store). A year after Debbie adopted her, she brought her to Grand Haven and we took Haven to the DPW building to meet the workers that had left food out for her over the years. I also took her to the boat docks where she would scrounge for food in the summer from the boaters."
Turchan believes the dog could feel the love.
"Haven was loved by many Grand Haven residents, and even though it was from a distance due to her being feral, this love kept her in a routine and alive," she said. "... When her adoptive owner brought her back to Grand Haven, she met many of her followers as she proudly wore her Grand Haven T-shirt. I will never forget the moment a DPW employee who had cared for her knelt down and hugged her and said, 'I have waited many years just to touch you, my friend.'"