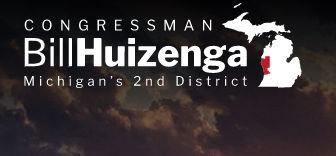 U.S. Rep. Bill Huizenga will host a telephone town hall discussion Thursday on the coronavirus pandemic with residents from across West Michigan.
Huizenga, R-Zeeland, says he will begin the call by providing an update on the latest developments related to the COVID-19 relief package that is currently being debated in the U.S. Senate. Huizenga will then take questions from constituents across the Second Congressional District.
Approximately 40,000 West Michigan residents will have the opportunity to participate in the call via telephone, the congressman said. The call will also be streamed live on Huizenga's website at Huizenga.House.Gov/Live so an even greater number of residents can listen and participate.
Huizenga says he will begin the conversation shortly after 5:45 p.m.