GRAND RAPIDS — Diving into the water is second nature for Spencer Cobb. The Spring Lake High School senior had done it for years as a standout on the swim team.
After a spinal cord injury suffered diving into a lake on Halloween night, a freak accident has left him trying to rework a life flipped upside down.
"What I've been trying to work on is trying not to get down on yourself about small things," Spencer said. "I'm trying to make something out of everything, every little win. If I can move my wrist right this second? That's a win. Every little thing I do, I'm trying to make the most out of it."
It had just crept past 7:30 p.m. during a party held at a family friend's house, where adults and teenagers mixed with costumes, games, a bonfire – standard, safe fun. At some point, on a typical teenaged dare, Spencer and a couple of his friends decided to jump into the cold lake that backed up to the backyard of the house.
Spencer was the first one in, diving in head-first. After he made contact with the sandy bottom of the water, he knew right away something was wrong.
"I knew I broke it right away," he said. "I couldn't move. I was in the water face down and I couldn't turn myself around to breathe. I just was completely immobile."
At first, friends had assumed it was just a prank. After nearly a minute, they were alert to pull their friend out of the water.
Good lung strength came in handy after years of swim practice, even as his friends' efforts in finding him were complicated by evening darkness.
"It was just tough to see him with how dark it was," teammate and friend Charles Brown said. "Once we got him out of the water, we were all in shock and it was very quiet. Luckily, there was one of the moms around who was a nurse."
While waiting for paramedics to arrive, there were all sorts of thoughts racing through Spencer's mind.
"I couldn't feel pain, but I knew what was happening," he said. "I wasn't panicking at that moment, the realization didn't really hit me. I wasn't scared, I was just confused."
As a result of the impact, Spencer had fractured three vertebrae – C4, 5 and 6, all part of the neck – and had an initial loss of any motor function below his torso. Doctors determined there was no pushing on the spinal column, and surgery at Mercy Hospital in Muskegon was pushed to the following Monday morning.
Screws and plates didn't hold up to initial tests, so carbon fiber and bone grafts were inserted instead in a six-hour procedure. After a few days in intensive care, tests went well, so Spencer was moved to the pediatric neuro unit at Mary Free Bed in Grand Rapids, a site that focuses on rehab and physical therapy.
Making progress
A series of twisting hallways and big doors lead to the third floor, the pediatric wing at Mary Free Bed. Out the window, the first major snow of the winter is blowing by, but Spencer Cobb is focused on what's in front of him – a wall full of signs with supportive messages.
Friends, swim teammates and classmates have signed their names and given well wishes. He's gone through all of the 300-plus cards from fellow Lakers, "some of the most heartwarming things" he's ever read.
The Cobbs have already made themselves at home inside Spencer's room – mother Allison has hardly left for more than a few hours since they arrived in early November.
For the past couple of weeks, Spencer's had a steady schedule of both physical and occupational therapy. In the first 8-9 hours of his day, he's trying to relearn and strengthen the movements he used to take for granted.
By 4 or 5 p.m., he's tired out – something he sees as a feeling he gets to earn.
"It's a battle," he says. "It's as much a physical endeavor as it is a mental thing. Going from being independent and doing all these things, you take for granted how nice it is to just brush your own teeth or eat something for yourself."
Through it all, he's tried his best to keep in good spirits. That's thanks in large part to some good, solid progression since moving over to Mary Free Bed. Doctors have told Spencer the progress he's made in just a few weeks is strong, and there have been plenty of breakthroughs to feel good about.
"One day, (doctors) lifted my leg up and told me to push with them," he said of the early stages of his recovery. "I could feel my legs activate, maybe the tiniest amount. That was monumental for me, just to know I still have that connection and it can get stronger. To know, eventually, I'll probably be able to move my legs pretty well again, that was the biggest breakthrough for me so far."
That hasn't meant everything's going perfectly.
"There are days when it's been frustrating," Allison said. "We'll go back 10 days and try to put it in perspective, like the things we'd get upset with then were totally different to now. Sure, he's not where he wants to be, but sometimes there's good progress."
The biggest obstacle has been getting through a good night's sleep. Muscle spasms in his legs aren't painful, but moving pillows in the middle of the night has become a regular occurrence.
It's going to be a long, difficult road back – with injuries like his, it's difficult to gauge how quickly the recovery will go. Doctors are hesitant to give expectations, knowing things work on a case-by-case basis. He'll be at Mary Free Bed for the better part of the next three months as he continues therapy.
'He can do this'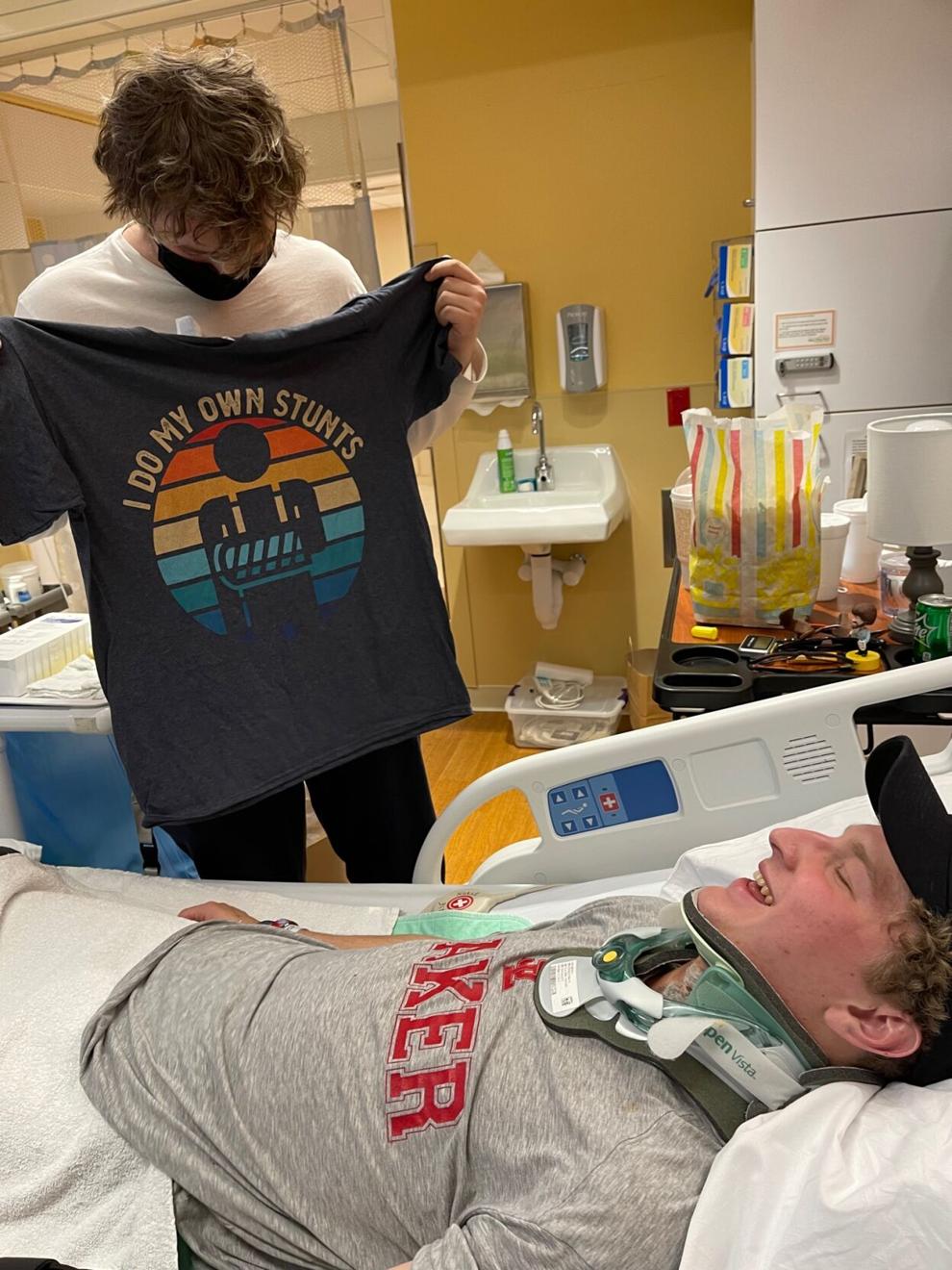 Part of his good attitude has come from the people in his corner. Word of Spencer's injury produced a tidal wave of support, especially among the tight-knit group of teammates and parents from the Lakers' swim program.
"The parents just want to do anything they can to support them," family friend Sara Zuelke said. "Spencer feels like a son to us. You put yourself in that situation and your heart just breaks."
With numerous families ready to contribute, a GoFundMe account was created to help with medical bills and lost wages from Allison's job as a pharmacist. Within the first 24 hours, nearly $10,000 had been raised, and the fundraiser sat just short of $20,000 by Wednesday.
"You're always a little apprehensive asking people for help," said Staci Brown, who helped set up the GoFundMe page, "support-for-spencer-cobb-and-family." "That support has been so useful. Allison's been able to take off work and be there for him, which is a huge deal. It's just giving them the opportunity to focus on what's important, which is that healing process.
"If there's a kid we know can get through this, he can do this," Brown added.
The Cobbs have been blown away by the positivity they've received.
"People reaching out and just saying 'Hey, here's help' – that's overwhelming," Allison said. "I don't know how to say thanks in a way that expresses what it means to us."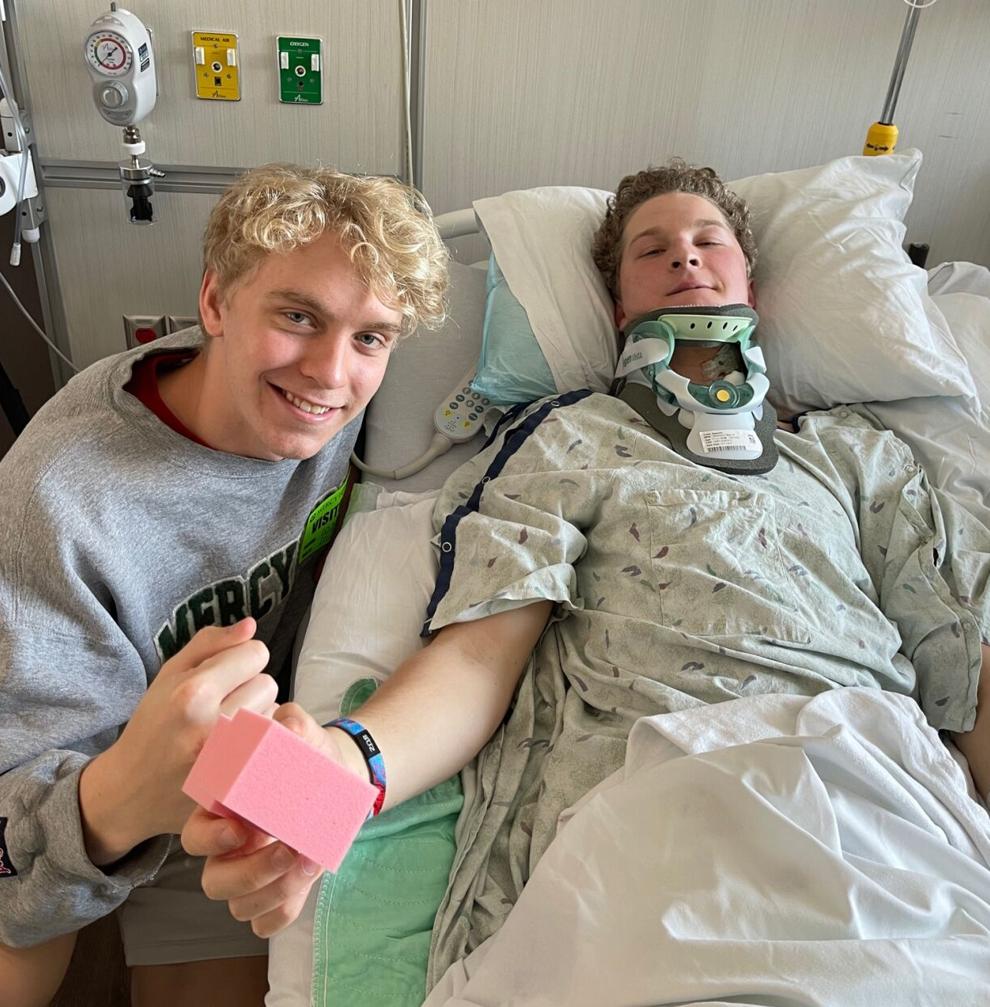 The move to Grand Rapids also let more of his friends come by and check in, providing an instant shot of good morale.
"Being able to see anybody coming in, it's the best part of my day, every time," Spencer said. "Seeing friends come in or anybody, it makes me feel so, so happy. Even with school, I never thought I'd say I miss being at school, but I would give anything to be there right now."
That enthusiasm has him looking a lot like the kid his family and friends are used to, even as everyone's still processing a new reality for his life.
"It's awesome," Charles Brown said of the school's support. "Every time we can see him, it's a good thing. When we're around, he's the same Spencer he's always been."
Spencer won't get a chance to compete in his senior season in the water, but that hasn't stopped his teammates from helping out. They have plans to use their annual fundraiser to give to the Cobbs, and "Swim for Spencer" T-shirts and bracelets are quickly becoming part of the team's wardrobe as they begin practice in the coming days. He'll remain one of the Lakers' captains for the season alongside Brown.
He's also got a simple goal as it relates to his recovery – walking across the stage at graduation in mid-May. No projecting, no nonsense. That's what's on his mind.
"That's everything," Spencer said. "If I set that goal for myself, I'm going to make it, I'm going to do it. That's the mentality I'm trying to keep, and nothing can stop me from that."