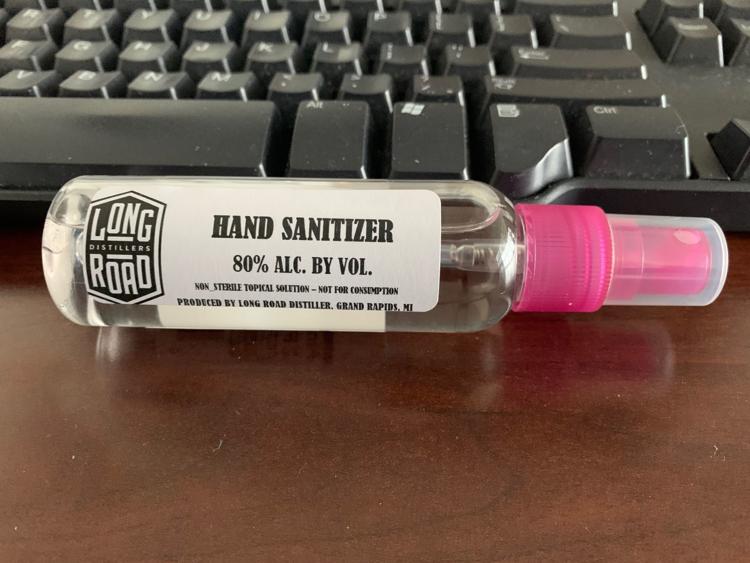 When Grand Haven Public Safety Director Jeff Hawke reviewed and approved an application for a small distillers license for downtown Grand Haven in 2018, there was no way he could have predicted that a few years later that licensee would come to the rescue during an international pandemic.
This is exactly what happened last weekend when Long Road Distillery owners Kyle Van Strien and Jon O'Connor showed up at their Grand Haven location with cases of half-gallon jugs of hand sanitizer for first responders in Ottawa County.
The Grand Haven Department of Public Safety purchased 12 half-gallons, while Ottawa County Emergency Management picked up another 20 jugs.
The sanitizer is now being used by first responders, who have no choice but to come to work every day and have multiple direct contacts with any number of citizens, Hawke said. It is used before and after every such public contact to kill the COVID-19 virus.
O'Connor said he is happy to do what he can to help out.
"We are proud to be able to support the men and women in public safety in both Grand Haven and Ottawa County during this time of need by providing them with hand sanitizer we were able to produce by shifting our distillery operations to making this much-needed resource," he said of the company's quick response.
Those in need of sanitizer can check with Long Road Distillery to find out when more supply will be available. More information is available at the company's website at longroaddistillers.com/handsanitizer.
"We continue to ramp up our production efforts to continue producing hand sanitizer for the duration of this global concern," O'Conner said. "Hand sanitizer and distilled spirits will be sold every Saturday in Grand Haven."