Editor's note: In recognition of National Adoption Month, we talked with a local couple who decided to take a nontraditional route in starting their family. Here's their story: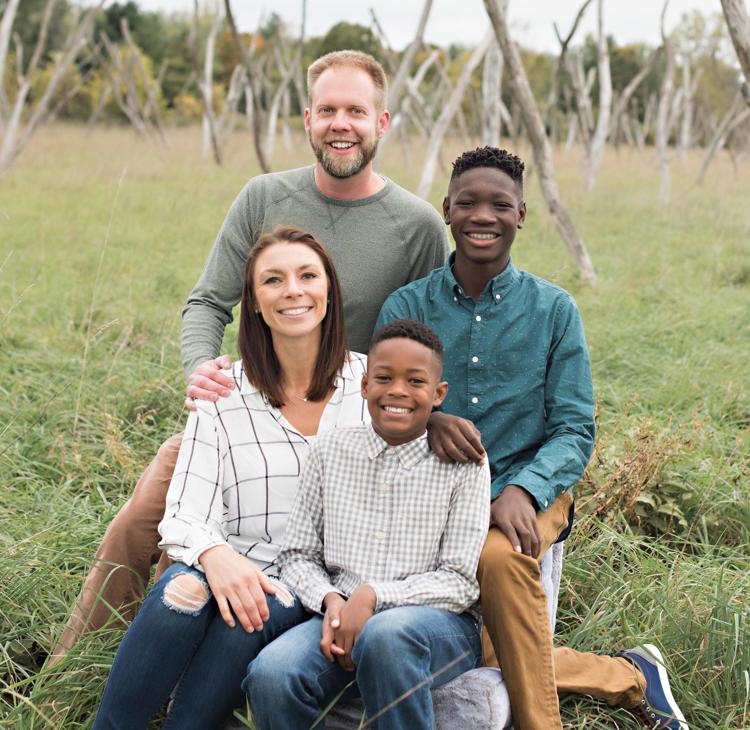 Cameron and Dawn Korenstra will never forget that fateful email they received six years ago.
The Grand Haven couple knew it was coming at some point, but when it finally arrived in their inbox, their lives changed forever.
The Korenstras were in the process of adopting a child from Ghana, and after several months of wading through interviews and paperwork, and a few months of fruitless waiting, their dream of starting a family hinged on that email.
"I remember (Cameron) called me and said, 'Did you see it? We got our email," Dawn said. "I was at home, and he said, 'Don't you dare open it until I get there.'"
Later that day, the couple eagerly clicked on the message and were greeted with their first glimpse of their new son, Will.
"It's etched in my brain," Dawn said. "We clicked open and it was a super-dark photo, taken at night. Will is dark as night can be, and all you could see were his teeth and eyes. It was like, 'Is he all there?' He was so tiny, and you couldn't see a thing, but he was ours."
Two visits to Ghana ensued. On the first visit, their time with Will was extremely limited and strictly supervised.
"He had to stay in the orphanage the whole time we were there," Cameron said. "We were able to take him to dinner twice, then to beach, and to court. They didn't allow us into the orphanage, so it was a lot of parking lot visits."
The court date is one the Korenstras will never forget.
"It's hot, it's a classic old schoolhouse feel with pews, and they don't let you bring in any food or anything for the children, and here's this child we met two days ago," Dawn said. "We're dressed in suits, it's 110 degrees, we're sitting in these pews packed in like sardines, and he was amazing. Here he is with us – we look different, we smell different, we talk different, we had no food for him, he knew zero English."
After their court appearance, Will returned to the orphanage while Cameron and Dawn returned to the United States. Over the next few months, they had almost no contact with their future son, although a family from West Michigan who was also adopting visited Ghana and took some pictures of Will for them.
"I could see he lost a tooth while we were gone," Dawn recalled. 
A few weeks later, the Korenstras flew back to Ghana, this time to bring Will home.
"We went to the orphanage and took him with us," Cameron said. "They had people from the agency who would come visit us at the hotel daily, check in with him, speak to him in his language, tell him what was going on. After five days, we were able to get on the airplane and fly the 13 hours back to New York."
Will arrived in the United States three days before his seventh birthday.
How much did he have to learn about his new life? Everything.
"His third day home was his birthday, and we had a giant birthday party," Cameron recalled. "We put a present on his lap and he's like, 'Thank you.' He didn't know what to do. So that was heartbreaking. He was 7, and he'd never opened a present. He had to start fresh on so many things."
Those first few months, Dawn stayed home with Will and taught him letters, numbers to 100 and basic English, and introduced him to all things that we take for granted but that a young boy from Ghana had never experienced.
"He didn't know you could take a bath in a bathtub, could get water from the faucet, that we kept food in a refrigerator," Dawn said. "All these things in his world were so different."
The next fall, Will started school at Grand Haven Christian School, in Andrea Techjema's first-grade class.
"The teacher would come out and she would say, 'I'm sorry he didn't learn a thing today,'" Dawn said. "I was like, 'Oh no, what happened?' She said, 'It started to snow and all he could do is stare out the window.'"
Will, now 13, slowly but surely learned his way in a new country, thanks largely to the love showered upon him by his new family. He made friends. He played soccer, baseball, football and basketball. The family went on vacations, including a trip to Jamaica.
"Life was good," Dawn said. "We were happy, we were content, we were making strides. You feel like you're on top of the world when your kid is successful at things he had struggled with."
But the desire to add another member to the family began to gnaw at Dawn.
"I felt like we needed another addition, so we went back to the Ghana program, which was open still, and started the adoption process," she said. "We got quite far into the program, and then they closed all international adoption through Ghana."
Cameron and Dawn had to re-evaluate their options, and decided to change gears and attempt to adopt domestically through a foster program. That's how they came to meet K.V., whose path into the Korenstras' life couldn't have been anymore different from his soon-to-be big brother.
"He was from Grand Rapids, born at (Spectrum Health) Helen DeVos Children's Hospital, one of five children," Dawn said. "We met his grandmother, his aunt and his siblings."
K.V. had been in 10 different foster homes, Cameron said.
"When we came in, we said, 'This is the last house you'll ever have to come to," Cameron said. "He didn't believe us. Of course, why would he?"
After an initial visit with just Cameron and Dawn, Will came along on the second visit. They went out to eat, got ice cream and went to the zoo.
The two boys hit it off immediately.
"We took a first picture, and Will's making rabbit ears behind K.V.'s head," Dawn said.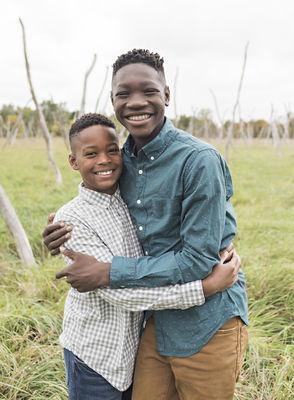 The two boys led vastly different lives prior to joining their new family, and they've presented very different challenges to their parents. Growing up in Ghana, Will learned where to find safe drinking water and how to grow food to survive. Growing up in Grand Rapids, K.V. watched TV and played video games.
But for all their differences, they have one thing in common – they've become brothers and brought untold joy to their parents.
It's no secret that the Korenstras look different than the typical Grand Haven family of four, and that's OK with the boys.
"I like the diversity of my family," said 11-year-old K.V. "All of us in my family are really athletic, and we're all really sportsy and crafty, and we can come up with a lot of ideas doing stuff. My family's awesome. … I like being able to go to a Christian school and worship God freely."
K.V. also said his family is "weird."
"It's good to be weird," he added. "Nobody likes normal. Normal is boring."
Will said he likes his family because, "We don't sit around doing nothing. We move and go places. We're active."
What makes his family unique? "Two black children and two white parents," Will said matter-of-factly.
Cameron and Dawn are very aware that their two dark-skinned boys stand out in a predominantly white Grand Haven.
"It's a frequent conversation we have," Dawn said.
"You're not going to run into much diversity in Grand Haven," Cameron added. "They're probably going to live their lives in a mostly white world. The struggle becomes when they're older, where do they fit in? So far, as kids right now, everybody is wonderful to them."
There was some apprehension with Will leaving Grand Haven Christian School in favor of Lakeshore Middle School.
"We've had very minimal issues," Dawn said. "We knew going into this year, we changed school systems with Will, not everyone is going to know him, and not everyone is going to be nice. We tried to prepare him that he could hear things. You want him to experience these things when you're there to pick him up, tell him it's OK, navigate that with them."
"We want the problems to arise now while he's living in our house," Cameron added. "There will always be problems, but if we've dealt with them before, they know how to react."
The Korenstras don't sugar-coat it – adoption is tough. But adding any child to a family brings with it significant challenges. Cameron urges anyone who is considering adoption to have faith and take the chance.
"I think it's everyone's fear of the unknown," he said. "I'd say just do it. ... We're not perfect people. Whether it's your biological child or adopted child, a billion things are going to come up, and some days it's really hard. But in the grand scheme of things, it's been just fine.
"We try to bring our faith into it a lot," he added. "We raise them up in God as best we can, and know God's going to handle it."
Dawn calls on numerous Bible verses and quotes. One of her favorites comes from Jody Landers: "A child born to another woman calls me mom. The magnitude of that tragedy and the depth of that privilege are not lost on me."