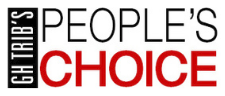 Voting for the Tribune's 2021 People's Choice awards is now open.
The competition began with a nomination period. Those that received the most nominations have advanced to the current voting phase, which runs through March 1.
You can vote once per day.
Winners will be announced March 27.
There are 11 main categories this year: Food & Drink, Art & Entertainment, Shopping, Beauty, Health & Fitness, Home Services, Life Services, Auto & Recreational Vehicles, Real Estate & Home, Employment, Recreation, and Pets.
Each main category is broken down into multiple sub-categories. For example, under Food & Drink, you can nominate your favorite spot for appetizers, sushi, baked bread, barbecue, buffet, burger, breakfast and more.
Cast your vote for your favorite businesses at peopleschoicewestmi.com/2021-peoples-choice/. That website also features a list of past People's Choice winners.