This is getting way too close.
Tuesday afternoon, I received an email from Robbinswood Assisted Living Community administration that a staff member tested positive for COVID-19.
My 97-year-old mom, Lillian Havenga, lives at Robbinswood, a Grand Haven retirement community with caring staff members.
Ironically, I received the news two years to the day that Mom suffered a stroke, which eventually landed her in Robbinswood, after living independently all of her life.
Like many others, the email was jarring. This is our town. These are our loved ones.
Fortunately, no residents or other staff members are exhibiting any symptoms. Staff is frantically working to email, call and snail-mail family members. Unfortunately, not everyone has an email address on their list of contacts.
I visited Mom at Robbinswood every day, until rules came down that I couldn't. Understandably. For resident safety. For the best, for sure. Robbinswood set up visitor restrictions many days before federal and state leaders did.
The Grand Haven facility is home to nearly 100 elderly residents, who at one point were deemed most vulnerable to the virus. But the staff member who tested positive is reportedly young.
Although nothing can be divulged due to health privacy acts, the employee came to work last Tuesday (St. Patrick's Day) and, per Robbinswood regulations, staff tested her temperature. It registered normal. No fever. No symptoms.
Upon checking it again during her shift, she registered a low-grade fever and was sent home.
"We've had precautions in place to limit people coming in and out of the building, except for staff," said Don Trygstad, the retirement home's executive director, who wrote the email sent to family members Tuesday.
It was an email I never expected to read, and this is a column I never wanted to write.
Despite all the precautions they took — wiping down hand rails, wiping down door knobs, disallowing outside visitors, and even spraying down and disinfecting supplies and mail and letting them sit in storage for CDC suggested times — this happened.
"We're not the only assisted living community in Michigan in this situation," Trygstad said. "We're kind of lucky, though. Now we know. And we knew early. The employee tested OK when she arrived. We are checking employees' and residents' temperatures twice a day."
When the employee's temperature had increased near the end of her shift, staff sent her home and wellness director Jolie Behmlander suggested she get tested for COVID-19, as a precaution. The results came back late Monday — positive.
That's what I'm trying to remain, positive, in attitude and outlook. It's scary, though. I've written about this virus for months, and its effects on local businesses as it caused chaos in China, a large supplier of parts on which many of our local manufacturers rely.
More recently, I've interviewed local grocers about binge shoppers and shortages, restaurant owners about continued efforts to support the community, and learned homeschooling to its chaotic heights, including a blinking green frog/drone flying over my head as I type this.
It's frantic, yes. But it's family. And Mom is part of our family. That's why we continue to visit, even though our "visits" have drastically changed.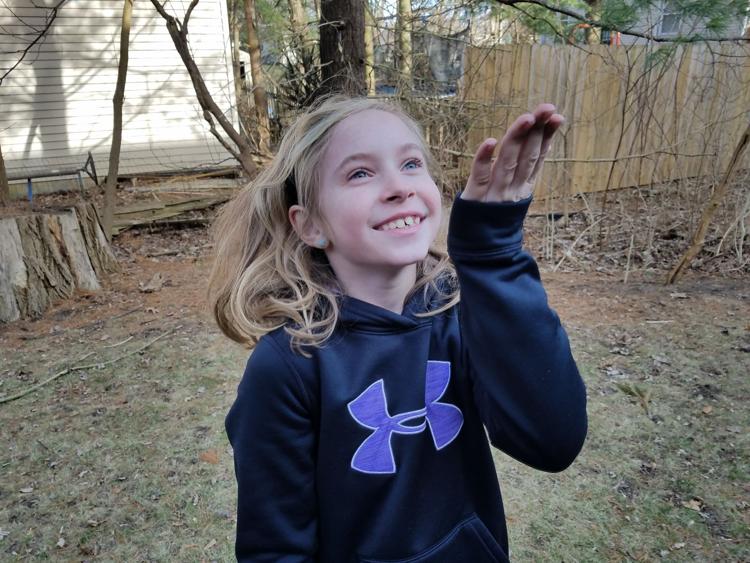 We stand outside Robbinswood these days, waving and blowing kisses through the window. My 8-year-old daughter, Lainey, performs somersaults and dances.
We long to hug Mom, to see her in person, to share a dinner together, to share a laugh. We are always close. Never distanced. But, unfortunately, this is not the time for that.
What's so frightening is that with every precaution being taken, the risk still permeated all protections. And that leaves us fearful of the fallout for not only this facility, but for our families and our friends.
So much has been yanked from all of us in recent days — our places of worship, our educators, our restaurants, gyms, pools and in-person time with loved ones.
While we hope we never test positive for COVID-19, I hope we test positive for another kind of epidemic I've witnessed sweeping our community — compassion.
We cannot control COVID-19, but we can control caring. And commitment. And being there for one another. No matter what.