GRAND HAVEN TWP. — Around Grand Haven High School, Patti Vredeveld is affectionately known as Mamma V.
She's served as a teacher's assistant in various special-education classrooms for years and has long been an avid supporter of the Buccaneer wrestling team. She's always there to lend a hand when needed.
Now, it's Mamma V who needs some help.
Vredeveld was recently diagnosed with Stage 4 cancer, and is unable to return to the classroom at this time.
"We call her Mamma V because she's our mom and she takes care of everyone in the building," said Gina Schmitt, an assistant principal at GHHS. "It's definitely been a big hit to us, not to have her here, so we want to do everything we can to support her."
Schmitt, along with wrestling coach Vince Gervais and his team, are hosting a community can drive to raise money for the Vredeveld family. Their goal is to completely fill a school bus with cans.
Can collection dates will take place on Saturdays, Feb. 6 and 13, from 11 a.m. to 1 p.m., at Grand Haven High School. All returnable cans and bottles will be accepted, as long as they're in bags.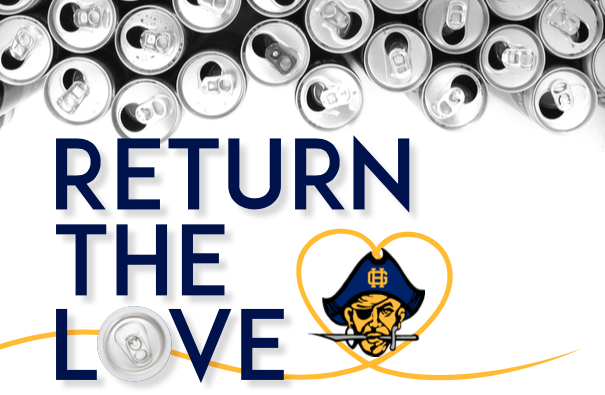 "Our goal is to fill a school bus, and at the start, I thought that was a lofty goal, but every day we get closer and closer," Schmitt said. "If people aren't able to come, we've encouraged them to reach out to us and somebody will have the cans picked up. I have students with truck beds already full of cans and I have cans in my garage. People have reached out on Facebook and let us know that they can't be there and asked if somebody can pick them up. You can really tell it's spreading throughout the community."
Those who visit the drop-off dates are encouraged to enter the high school through the east entrance off Ferris Street and loop around to the drop-off area in front of the stadium. You won't need to leave your car – just pop open the trunk and Buccaneer wrestlers will be on hand to retrieve the cans.
If you'd prefer to make a donation of money or gift cards, you can mail them to Gina Schmitt at Grand Haven High School, 17001 Ferris St., Grand Haven, MI 49417.
Patti and her husband, Craig, have three daughters.
"Patti and her family are extremely giving of themselves, their time, their efforts and their money to the Grand Haven community, and specifically, the Grand Haven High School community," Schmitt noted.