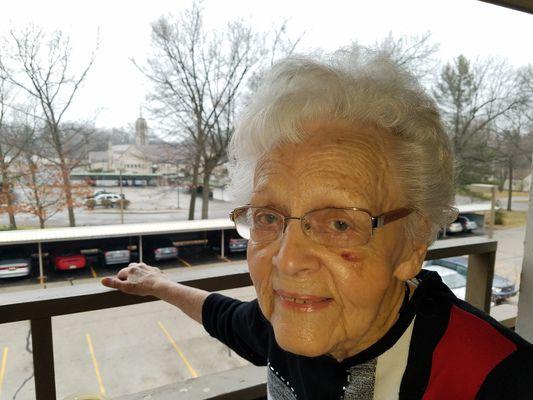 SPRING LAKE — Lucy Lobdell will turn 100 Sunday, but she's lucky she made it to 8.
As a youngster growing up in Grand Rapids, Lucy and a friend ran across Lafayette Street after being cleared by the adult who was watching them.
That's when tragedy struck – twice. First, a car hit her. The force catapulted Lucy's then-7-year-old body into the front of an oncoming streetcar, which also struck her.
"I saw it coming but I couldn't get out of the way," said Lucy, now a resident at Liberty Woods Senior Apartments in Spring Lake. "The car hit me right in front of the streetcar. I can see it yet in my mind."
She was rushed to a hospital, and couldn't walk for a month.
"I was all banged up," she said.
From banged-up beginnings, Lucy banged out the rest of her life to her own drumbeat. It's made her strong. And feisty. And full of humor.
She married her first husband, Leroy, in 1939. They raised three of their own children – Dewey, Sharon and Janice – and a niece and nephew.
"Dewey just turned 80," Lucy cracked. "That makes me sound old."
After Leroy died of a heart attack, she married Grover in the 1960s. They lived on 15 acres near Fruitport, where she talked him into clearing a path around their land and buying a horse so they could journey by horse and buggy.
It wasn't her first experience trailblazing. Lucy was part of a group that helped launch the Crystal Mountain ski resort near Thompsonville.
"It was nothing but a patch of woods," she said. "The kids didn't have anything to do when they got out of school and they wanted to do something in the snow. The dads would take the hoods off old cars and use them as sleds."
After getting permission from the state, the group got to work on what is now Crystal Mountain.
"All the dads got together and, when they weren't working, they cut down trees up there," Lucy said. "It was probably in the early '50s. That's how it started. We had one hill. The mothers bought toboggans and skis. I got a hot dog stand going and we built a fireplace. We had rope tows. They had lines of kids waiting to ski."
Lucy said she feels blessed to be reaching her centennial. She attributes her longevity to hard work and being her own person.
"I love gardening and raising flowers and vegetables," she said. "I was right out in the field with the guys. I've always worked hard. I think that's what keeps you young and keeps you going. I have no other reason. I've always wanted to go, go, go."
Lucy sang in church choirs with her aunt, and still participates in karaoke at Evergreen Village.
"I worked hard and I sang a lot," she said. "I was always singing around the house. My aunt sang, so I wanted to sing. I never wanted to be like those big-name stars. I just wanted to sing on my own."
Lucy walks with a walker these days, as her legs trouble her – she thinks perhaps because of the car/streetcar collision so many years ago. But she's still able to get around. Her mind is sharp, and her hearing and vision keen.
Her second-floor apartment windows look out over the cross at Spring Lake Presbyterian Church. She participates in Bible study at Evergreen Village every Wednesday and Sunday, and attends church there on Sundays.
"We're going to honor her Sunday at church," said Elaine Lutz, a fellow Evergreen resident and pastor of Agape Love Ministries. "Lucy is outstanding. She's amazing. At her age, she participates and I've watched her grow spiritually by leaps and bounds. She has a lot of wisdom."
Lutz said she's learned many important lessons from her older friend.
"I have learned that it pays to be gentle with people, and that's what I see from her," Lutz said. "But she can be a spitfire, too."
Organist Fern Doctor said she and Lucy always smile and wave at each other.
"I always figure that the word 'love' is connected with her," Doctor said. "She is love."
Hairdresser and fellow Evergreen Village resident Keith Cross calls Lucy his "resident mother." She reminds him of his own mother, who died at age 97.
Cross takes her shopping and on other outings. Lucy gave up driving more than 20 years ago.
"We're very close," Cross said. "She's probably my best friend here."
Evergreen Village Manager Theresa Twa said Lucy is a popular person.
"We all have our peeps," Twa said. "She has a whole building. I want to be like her when I grow up."