Vice President Mike Pence plans 3 stops in West Michigan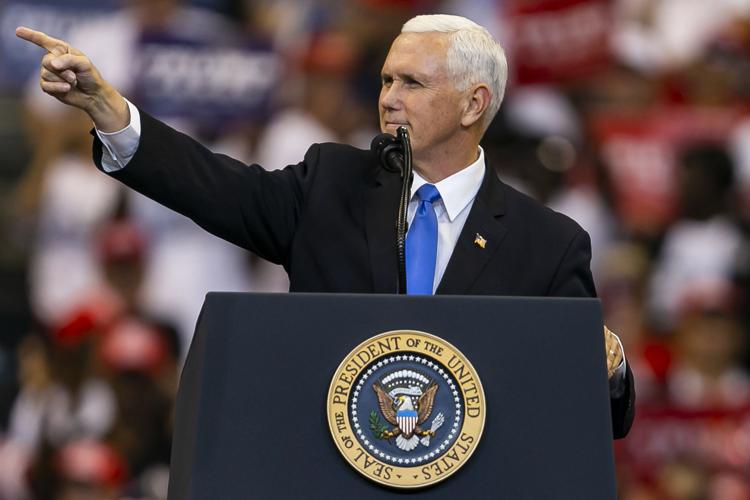 GRAND RAPIDS (AP) — Vice President Mike Pence has scheduled three stops next week in western and southwestern Michigan.
Pence plans to visit Grand Rapids, Portage and Holland on Wednesday, with expected meetings with religious and community leaders. The former Indiana governor also will attend a campaign rally in Holland with Sarah Sanders, President Donald Trump's former spokeswoman.
Oops: Missing word spoils recall petitions against lawmaker
TRAVERSE CITY (AP) — An effort to recall an indicted state lawmaker suddenly has crashed after election officials say a word was missing on the petition.
Elections director Sally Williams said rejecting petition signatures because of one word might seem "excessively technical and harsh." But she said there's no wiggle room: The petition language must match the previously approved reasons for a recall.
State Rep. Larry Inman, a Republican from the Traverse City area, is charged with trying to trade votes for campaign money. The recall petition is missing the word "right" in describing one of the charges against him.
Nearly 14,000 signatures from voters in his district were submitted, more than enough to force a recall election.
Recall organizer Kaitlin Flynn said she's disappointed by the state's decision.
Inman faces trial next week in federal court. He's pleaded not guilty.
Grand Rapids-area pastor denies Holy Communion to gay judge
EAST GRAND RAPIDS (AP) – The Roman Catholic Church in West Michigan is defending a priest's decision to deny Holy Communion to a popular judge in a same-sex marriage.
Judge Sara Smolenski said the Rev. Scott Nolan privately informed her Nov. 23, about a week after last receiving Communion from him at St. Stephen Church in East Grand Rapids. It has been her lifelong parish – she gave $7,000 for a building project – although she said she hadn't regularly attended the church for months.
"Why now and why me?" said Smolenski, a suburban Grand Rapids judge who married her longtime partner, Linda Burpee, in 2016. "How come all these other priests everywhere – good and decent, wonderful priests – they know me and they give me Communion?"
Nolan said the teachings of the Catholic faith aren't flexible. The church recognizes marriage as between a man and a woman.
"It might look like it is discriminatory or particular or specific or targeted, but I disagree," Nolan told WOOD-TV, adding that Bishop David Walkowiak supports him.
The Grand Rapids Diocese released a statement, expressing no reservations with the priest. "No community of faith can sustain the public contradiction of its beliefs by its own members," the diocese said.
Charges: 3 home health care aides bilked Lansing woman, 87
LANSING (AP) – Prosecutors have charged three home health care aides with embezzling nearly $40,000 from an elderly Lansing woman.
Court records say the trio were caring for an 87-year-old woman who needed around-the-clock care when they allegedly made "excessive food purchases," including spending more than $1,200 on a single grocery visit.
The victim hasn't worn dentures in several years and has a limited diet. Her daughter-in-law alerted police after noticing the strange purchases and missing money.
The Lansing State Journal reported that Debbie Seloberes, 22; her sister, Daenie Quimba, 27; and Michele Covert, 52, face embezzlement from a vulnerable person charges.
Brian Morley is Quimba and Seloberes' attorney. He said they maintain their innocence. Court records don't list an attorney for Covert.
East Lansing company AdvisaCare has fired all three.
Michigan doctor, others plead guilty in $8M kickback scheme
DETROIT (AP) – Authorities say a Michigan doctor and two associates have pleaded guilty to crimes related to an $8 million scheme that targeted members of the United Auto Workers and their health care plans.
The U.S. Attorney's Office in Detroit announced Wednesday that Dr. April Tyler of Fenton agreed to up to two years in prison this month when she pleaded guilty to violating a federal anti-kickback statute. Patrick Wittbrodt and Jeffrey Fillmore face longer sentences after pleading guilty to fraud.
Investigators say the trio targeted UAW insurance plans because of their high reimbursement rates. Their plan included medically unnecessary pain creams, patches and vitamins.
Federal officials say UAW members were told they could receive prescriptions free, but that led to theft of millions from their health care fund.
Ex-United Auto Workers chief resigns from union membership
DETROIT (AP) – Former United Auto Workers President Gary Jones has resigned his union membership.
The union announced Friday that Jones, 62, had left the UAW after stepping down as its chief earlier in November.
A widening federal bribery and embezzlement probe of the UAW has resulted in more than a dozen people being charged. Jones has not been charged, but federal agents searched his suburban Detroit home in August in connection with the investigation.
The UAW's International Executive Board had filed paperwork to expel him over allegations raised by the federal investigation. UAW spokesman Brian Rothenberg confirmed to The Detroit News that Jones' dropping his UAW membership allows him to avoid a trial before UAW members next week.