Trump announces Dec. 18 re-election rally in Michigan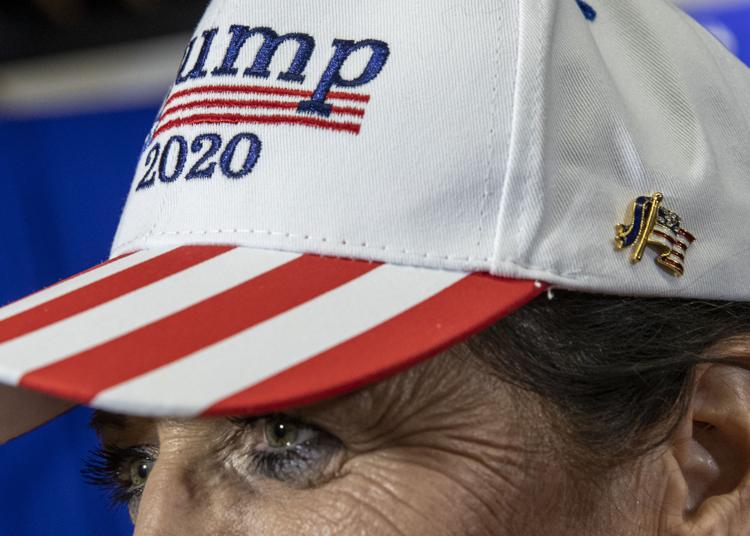 BATTLE CREEK (AP) — President Donald Trump will campaign for re-election in Michigan a week before Christmas.
His campaign announced Thursday that he will host a "Merry Christmas" rally on Dec. 18 in Battle Creek. The evening event will be held at the Kellogg Arena. 
Trump's announcement came a day after Vice President Mike Pence visited three cities in West Michigan, ending with a rally and a visit in Holland. Pence vowed that he and Trump will be in Michigan "again and again and again."
Trump narrowly won Michigan in 2016, and it will be a key state in the 2020 election.
The president last visited in Michigan in March, when he led a rally in Grand Rapids.
'Happy BAT day!' – Whitmer sends Shirkey cake after comments
LANSING (AP) — Gov. Gretchen Whitmer is displaying her sense of humor after a Republican legislative leader used the word "bat" and an expletive to call her "crazy."
The Democrat sent Senate Majority Leader Mike Shirkey a cake for his birthday Thursday. It said "Happy 65th BAT day!" and had frosting shaped like a bat — the nocturnal creature, not the implement. She later tweeted at him, saying she hoped his birthday isn't too "crazy."
Shirkey tweeted thanks to Whitmer, whom he called "my friend."
Shirkey has apologized to the governor for the comments he made last month to a group of college Republicans. His spokeswoman, Amber McCann, said "a good sense of humor" is helping to repair the relationship. 
The Republican-led Legislature on Wednesday took a step toward resolving a budget impasse and restoring funding vetoed by Whitmer, though final details are being worked out.
Officials investigating aggregate spill in Detroit River
DETROIT (AP) — Michigan officials are investigating a spill of an unknown amount of construction aggregate material into the Detroit River from an industrial site with a history of environmental contamination.
The release happened Nov. 26 at the Detroit Bulk Storage property, Nick Assendelft, a spokesman for the Michigan Department of Environment, Great Lakes and Energy said Thursday. The company stores and provides material for road construction, according to its website.
A person who answered the phone at the company declined to comment. But Assendelft said the owner told the agency "there was some material that ended up in the river" after an apparent collapse of a dock or shoreline.
The state agency plans to inspect the site from a boat today and will use a drone for an aerial view if weather allows, Assendelft said.
The site formerly was occupied by the Revere Copper and Brass Corp., which produced uranium parts and was a subcontractor for the Manhattan Project, which developed the atomic bomb during World War II, according to U.S. Department of Energy documents.
Assendelft said river sediments in the area are tested periodically.
A U.S. Environmental Protection Agency spokeswoman said surveys of the site in the 1980s detected no radiation above background levels.
Man charged in death of young child who ingested fentanyl  
PORT HURON — A 27-year-old Detroit man was charged with manslaughter in connection with the death of a young child who somehow ingested fentanyl.
Damonte Rice was arraigned Wednesday in Port Huron on involuntary manslaughter, maintaining a drug house and other charges, The Times Herald reported. He was jailed with a $500,000 bond, and has no attorney on record.
Authorities said 14-month-old Zai'Ahna Reddic died Aug. 25 after attempts failed to resuscitate her. Investigators said Rice, who lived in the Port Huron home, was handling powdered drugs inside.
Police said it's not clear how the child ingested the drug, but an autopsy revealed the cause of death was intoxication by fentanyl. Investigators were awaiting toxicology reports before determining whether to recommend charges.
Rice's next court appearance is scheduled for Dec. 17.
State will open its surplus store to the public Saturday
LANSING (AP) — Will there be any door-busters?
The state of Michigan is opening its surplus store for a one-day sale Saturday. The shelves will be stocked with goods from police, airports and colleges, and property no longer needed by state government.
The goods include computers, phones, knives, sporting goods, desks, chairs and even fashion accessories.
The store in Lansing will be open from 8 a.m. to noon. Cash and credit cards will be accepted. For more information, go to Michigan.gov/surplus.