Screams, cheers and smiles filled the air Saturday morning during the annual Cardboard Sled Race at Grand Haven's Mulligan's Hollow.
The event, which saw thousands in attendance – many from across Michigan and some from out of state – is part of the city's Winterfest, a long weekend of indoor and outdoor recreational activities for the whole family.
"It's such a rare thing for a community to have an event in the winter," said Brian Klingel, a real estate agent with Coldwell Banker Woodland Schmidt and longtime volunteer of the event. "... Heavy attendance like we've had in the last few years is what makes it so special."
At 10 a.m. Saturday, sledders of all ages, experience levels and creative fashion lined up at the Ski Bowl to prepare for the downhill races.
One team, the Paris family, has participated for the past few years with Disney-themed sleds, and this year they did not hold back with a giant "Toy Story" slinky dog, a blown-up version of the cartoon movie character.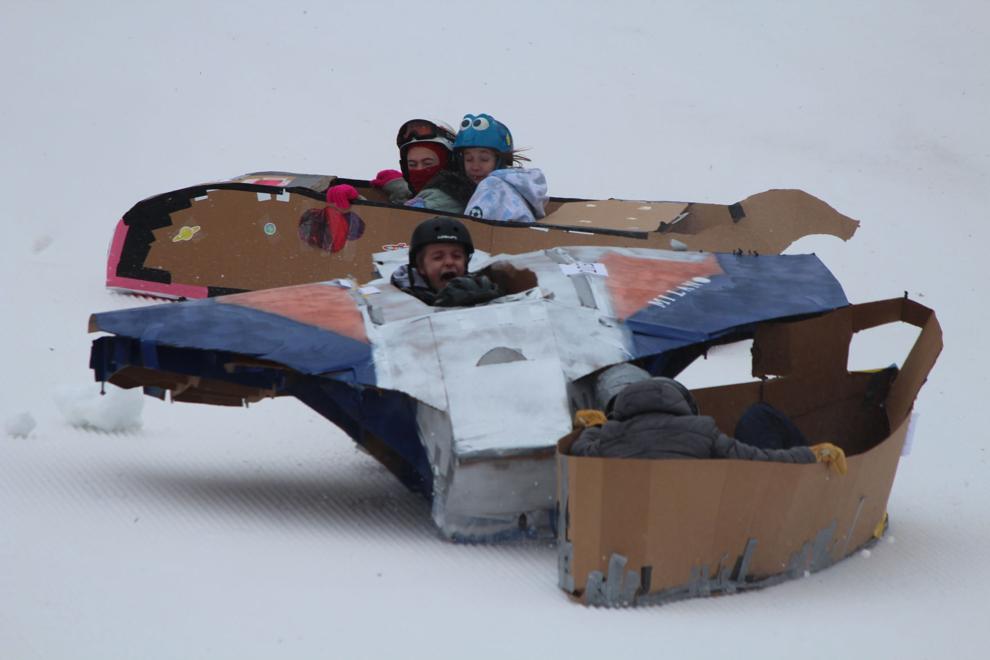 In past years, the Grand Rapids family has raced in a cardboard dragon from "How to Train Your Dragon," a shark from "Finding Nemo" and the mine cart from "Indiana Jones," to name a few.
"It's fun … and I get to see my friends," said 9-year-old Lily Paris, who was accompanied by her father, Greg, and older brother, Cole.
Although the sled broke in half as the Paris family started off in their race, the trio won the first place "Top of the Hill" Winterfest award for their creative sled.
Another team that brought their crafting skills to the forefront were 13-year-olds Ashlyn Guy and Gracynn Fisher, who raced down the ski hill in a giant Hershey's Kiss.
"We wanted to do some sort of candy," Guy said. "(Previously) we did a bed with skis underneath."
Fisher said it took the duo a few days to craft the life-size candy that the girls outfitted with a door and window, and enough room inside to fit both of them during the race.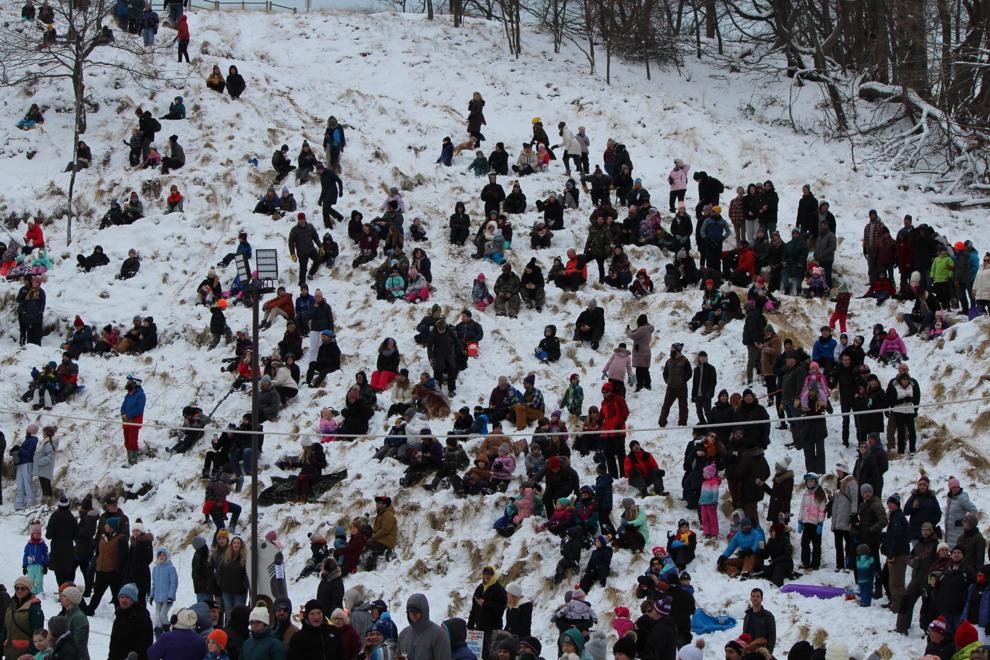 Nearing the start of the races, hundreds of people gathered on either side of the hill, hot chocolate and coffees in hand, to watch the unique races. At the bottom of the hill, volunteers situated hay bales and waited to help kids and families recover after crashing.
One man hit the ground and dislocated his shoulder, while many children flipped out of their sleds, but stood up unscathed to the cheers of the crowd. Nonetheless, many stood on edge, holding their breath as they watched sleds and their occupants crash at the bottom of the hill.
One team wiped out but took it in stride, standing up to cheers. The team was made up of siblings from Cincinnati, Ohio, whose grandparents own a home in town.
The Norton grandchildren – Braydon, 10; Jayce, 12; and Morgan, 8 – raced Saturday in a small but mighty sled that had a greyhound dog painted on the side, with the words "Adopt a Greyhound." Grandparents Dave and Jane Norton said they've been adopting the retired racing dogs for more than 20 years, and hope to encourage others to do the same.
"People don't know much about the breed, so they think they need to run a lot, and it's not true at all," Jane said. "All they need is a routine and a family, and you should always get more than one because they're a pack dog, they like to be in a group."
There were about 140 kids teams, 40 family teams and 60 adult teams that raced Saturday.
After the slinky dog, a sled named the "Jeep Snowvrelet" took second place for the "Top of the Hill" award. A heavily decorated flamingo, with a team of riders from Florida to match, won the "Vogue" award, which is given to "fancy" sleds "that make you say, 'How is that possibly cardboard?'" said volunteer and Coldwell Banker Woodland Schmidt Realtor Melissa Heyer.
The "Spirit" award was given to the "Crazy Train" adult team, recognizing their team spirit. That award is "generally picked by the group (of volunteers) at the top of the hill because that is where people go a little crazy before going down the hill," Heyer explained. "So, it's a group that shows team spirit."
Additionally, first-, second- and third-place awards were given to the fastest sleds in each category: kids, family and adult.