LANSING (AP) — Michigan deaths from the coronavirus rose 16 percent and made the largest daily jump since the outbreak hit the state, officials said Tuesday.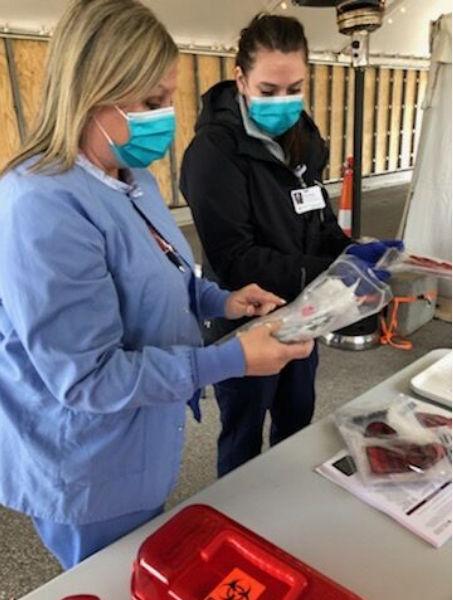 The state reported 118 additional deaths related to COVID-19, the respiratory disease caused by the virus, raising the total to 845. The number of confirmed coronavirus cases rose 10 percent to nearly 19,000.
The state reported eight new confirmed cases in Ottawa County on Tuesday, bringing the cumulative total to 52. It was steady Sunday and Monday at 44.
Muskegon County now has 41 confirmed cases and four virus-related deaths. Kent County has 187 cases and six deaths.
"It's another tough 24 hours here in Michigan," Gov. Gretchen Whitmer told reporters. "We know that we are continuing on what is an upward trajectory at this point in time."
"It's important to always stop and reflect that each of these numbers is a person," she said. "It's a Michigander who had a story and had a family who can't mourn the way we're used to mourning because they can't get together safely."
For most people, the coronavirus causes mild or moderate symptoms, such as fever and cough that clear up in two to three weeks. Older adults and people with existing health problems are among those particularly susceptible to more severe illness, including pneumonia. The vast majority of people recover.
Michigan lawmakers extend emergency declaration in pandemic
LANSING (AP) — The Republican-led Michigan Legislature on Tuesday lengthened Democratic Gov. Gretchen Whitmer's coronavirus emergency declaration by 23 days, through April, rather than adopt a 70-day extension she sought into mid-June.
Mask-wearing lawmakers approved the shorter extension by voice vote after undergoing screening procedures to enter the Senate and House chambers. Lt. Gov. Garlin Gilchrist II, who presides over the Senate, wore an "Everybody Vs COVID-19" shirt.
Republicans said they had to act or else Whitmer's emergency declaration would expire under a 1976 law. But Democrats said it would not have lapsed because she issued a declaration last week that also includes a new disaster declaration, meaning legislators did not have to vote until April 29.
Another complexity is that a 1945 law, also cited in Whitmer's declarations and orders, gives a governor broad powers to unilaterally declare an emergency and when it has ended — without any legislative oversight.
For most people, the coronavirus causes mild or moderate symptoms, such as fever and cough that clear up in two to three weeks. For some, especially older adults and people with existing health problems, it can cause more severe illness, including pneumonia, or death.
Lengthening Whitmer's emergency is important because the original declaration is the basis for roughly 30 subsequent executive orders, including those telling people to stay home and closing schools and businesses. Michigan had more than 17,200 confirmed coronavirus cases as of Monday with 727 deaths.
The Legislature implemented screening and distancing procedures to limit legislators from potential exposure. Two lawmakers have tested positive for COVID-19, the disease caused by the virus, while a third has died of suspected COVID-19.
Mercy Health offers drive-through COVID-19 testing
GRAND RAPIDS — Mercy Health now offers two drive-through testing centers, located in Grand Rapids and Muskegon, for patients with a provider order to be tested for COVID-19.
As COVID-19 numbers spike in West Michigan, Mercy Health says it has capacity to test up to hundreds of patients per day while they stay in their vehicles. Designed for patients who are not ill enough to warrant a hospital stay, the drive-through testing centers provide a safer way to perform the necessary swab to diagnose COVID-19, for patients with a provider order to receive a COVID-19 test. Because patients do not have to leave their car, the potential exposure to others is reduced.
"The drive-through testing center has the capacity to expand significantly at both the current site and to additional sites in the Greater Grand Rapids area as the need for increased access to testing grows." said Dr. Andrew Jameson, division chief of infectious diseases for Mercy Health Physician Partners.
Patients with suspected COVID-19 can take a virtual screening online at www.mercyhealth.com, where they will be screened and then can be referred to a virtual visit or see a primary care provider, who will order the COVID-19 test if necessary.
COVID-19 test results will be available within 24 hours. Before the patient leaves the testing center, the nurses give the patients information on how to quarantine within their own homes.
The Mercy Health St. Mary's drive-through testing center is located in the Wege Parking Ramp, 300 Lafayette Ave. SE, Grand Rapids. Hours are Monday through Friday from 8 a.m. to 5 p.m., and Saturdays from 8 a.m. to noon.
The Mercy Health Muskegon drive-through testing center is located at the Mercy Campus, 1500 E. Sherman Blvd. Hours are Monday through Friday from 8 a.m. to 5 p.m., and Saturdays from 9 a.m. to 1 p.m.
For up-to-date information, visit www.MercyHealth.com/COVID19.
Health care coverage available to Michiganders who lose job or experience a drop in income
LANSING — Michiganders who lose a job, resulting in a loss of their health care coverage or a change in income, may have low or no-cost health care options available through the Affordable Care Act Marketplace, Medicaid or the Children's Health Insurance Program.
Consumers in these situations are not required to wait for the yearly Open Enrollment Period and should act now.
Consumers have 60 days after losing essential health coverage to take advantage of a Special Enrollment Period. To determine eligibility, consumers should visit www.healthcare.gov.
Depending on income and their situation, consumers may qualify for cost-sharing reductions, premium tax credits, coverage for their children or Medicaid. Consumers should contact DIFS toll free at 877-999-6442 if they need assistance.
If consumers are new to www.healthcare.gov, they can create an account. If they already have one, they may log in to start or update an application.
Coronavirus was the 3rd leading cause of death in America on Monday
As Americans debate the deadliness of coronavirus and how to respond as a nation, AssistedLivingFacilities.org launched a study and daily tracker on coronavirus versus other causes of death using White House projections and data from the CDC.
Here are a few key findings:
— On April 6: COVID-19 was the third-leading cause of death (1,182). Heart disease (1,774) and cancer (1,641) were 1 and 2. COVID-19 is projected to become No. 1 during peak days in April.
— From March 1 to April 6: COVID-19 was the seventh-leading cause of death in America (10,680) behind heart disease, cancer, accidents, bronchitis, stroke, Alzheimer's, diabetes and influenza.
Deadliest events in U.S. history:
1. Civil War: 750,000 deaths (1861-1865)
2. HIV/AIDS: 700,000 (1981 to present)
3. H1N1/Spanish Flu: 675,000 (1918)
4. World War II: 405,000 (1941-1945)
5. COVID-19: 240,000 (Upper White House estimate from March 31)
6. Yellow fever: 125,000 (1600s to early 1900s)
7. H2N2/Asian flu: 116,000 (1957-1958)
8. World War II: 405,000 (1941-1945)
9. H3N2/Avian flu: 100,000 (1968)
10. COVID-19: 100,000 (Lower White House estimate from March 31)
Ottawa Area ISD donates PPE supplies to county
WEST OLIVE — The Ottawa Area Intermediate School District is working with the Ottawa County Emergency Operations Center to help meet the personal protection equipment (PPE) needs of front-line responders in the county during the COVID-19 crisis.
Dave Searles, director of career and technical Education for OAISD, said many of his instructors approached him about donating their unused PPE supplies as soon as Gov. Whitmer issued the order on March 13 to temporarily close schools.
"We inventoried our coveralls, medical gloves, surgical masks, N95 masks and sanitary wipes," Searles said. "When we finished, we had a nice stockpile of items to donate. We want to do whatever we can to help the people who are on the front lines risking their lives as they care for our community members and attempt to help stop the spread of this virus."
Activated in early March, the Ottawa County Emergency Operations Center brought together liaisons from multiple sectors including hospitals, fire departments, emergency medical services, law enforcement, community volunteers, K-12 education, higher education and others to support the Ottawa County Department of Public Health's response to the pandemic. The EOC became the connection point between the Careerline Tech Center stockpile of PPE and its distribution to frontline responders.
"Rather than donating to a single agency, this coordinated effort helped bridge the gap between current needs and future supply lines and maximizes the impact across the community of first responders," said Michael Rohwer, EOC K-12 education liaison and assistant superintendent for OAISD.
Ottawa Area ISD provided an inventory of available supplies to the EOC, which was then able to match them with area needs. Volunteers coordinated through the EOC picked up the supplies from the Careerline Tech Center and distributed to area frontline responders.
"These donations came at a critical time when supply lines from the state and federal government were still forming and our frontline employees had a high need for PPE," said Ottawa County Director of Emergency Manager Nick Bonstell. "Collaborative efforts like these demonstrate the strength of the EOC as a way to bring community groups with a common mission together."
The EOC is requesting donations for the following items for first responders: N95 or KN-95 masks, surgical masks, gowns (all sizes), face shields, hand sanitizer, and 2- or 4-ounce plastic bottles to fill hand sanitizer. Donations can be made by contacting the Ottawa County EOC at OCEM@miottawa.org or 616-738-4050. The drop-off location is 12130 Fillmore St., West Olive (Fillmore Complex Storage Building), but you are asked to call ahead.