Winds and more last week caused damage to a couple of Grand Haven Township structures – Hofma Preserve's floating bridge and a new boardwalk along 144th Avenue.
The floating bridge, which crosses a portion of Pottawattomie Bayou, was closed at the beginning of December after a combination of winds and high water damaged the fixed portion of the walkway.
"The floating bridge is the only practical method to move from the north portion of Hofma Preserve to the south portion," Township Manager Bill Cargo said. "High winds and high water (last) Tuesday tore the Hofma Park floating bridge from its moorings and floated a portion of the bridge farther east into the bayou."
Cargo said the previous repair estimates for the bridge, approximately $40,000, are no longer valid. Now, the portion of the bridge that has floated out into the bayou will need to be secured to keep it from moving farther and the township will need to receive new repair estimates.
Township staff will work with the township's insurance agent for reimbursement of repairs, Cargo said.
Another holiday incident requiring reimbursement is the damage done to the boardwalk along 144th Avenue. Cargo said a vehicle struck the boardwalk on New Year's Eve, then drove the length of the walkway.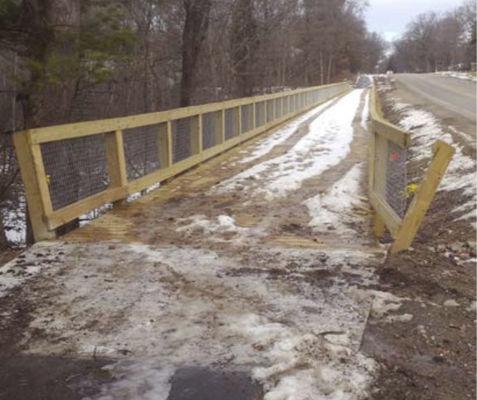 "While leaving the accident scene, the driver decided it was easiest to drive on the boardwalk to the other end, causing damage along the entire length," Cargo noted in his weekly township report, dated Jan. 3. "Fortunately, the sheriff's department has identified the driver, and that the driver is insured."
Cargo said the repairs for the boardwalk, which was completed last year, should not be complicated, and those costs will be sent to the driver's insurance company for reimbursement.
"The boardwalk is not designed to take the weight of pickup trucks driving on its deck," the township manager said. "Like the many other boardwalks along the 33 miles of pathways, it is part of the township's pathway system that is used by pedestrians, bikers and other nonmotorized recreational users."