A winter weather advisory remains in effect until 8 a.m. Friday for Ottawa County and portions of central, southwest and west-central Michigan.
In addition, a lakeshore flood advisory is in effect until 8 a.m. Friday for the West Michigan shoreline, and a flood watch for the Grand River at Robinson Township is in effect for early next week.
The National Weather Service said the winter weather advisory area could see total snow accumulations of 1-3 inches through Friday morning. 
Lesser accumulations on roadways, but motorists may see slippery roads during the Thursday evening commute. Allow extra travel time tonight. Be alert for possible branches on roadways.
Snow possibly sticking to trees and winds gusting as high as 50 mph through early Friday may lead to power outages. Halloween decorations should be secured against strong winds.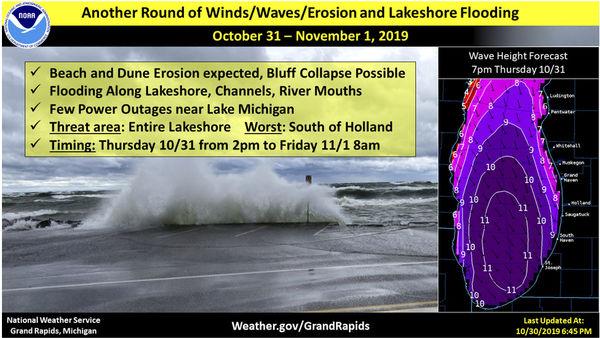 The lakeshore flood advisory is for Ottawa, Mason, Oceana, Muskegon and Allegan counties. Winds out of the northwest will be gusting to 35-45 mph through Friday morning, with waves rolling in at 8-12 feet.
Beach and bluff erosion is expected today and tonight on northwest-facing shorelines. The worst impacts are expected along the northwestern sides of Big and Little Sable Points and from Holland southward. Lakeshore flooding is also expected in low-lying areas and along river mouths.
The National Weather Service in Grand Rapids has issued a flood watch for the following rivers in Southwest Lower Michigan: the Grand River near Comstock Park affecting Kent County and the Grand River at Robinson Township affecting Ottawa County.
Another round of precipitation moved back into West Michigan this afternoon. Some of this will fall as snow, which will delay how long it takes the water to get to the river. Depending on the amount of snow that falls, and the speed that it melts over the next day or so, the lowest areas along the Grand River near Comstock Park and at Robinson Township could approach flood stage.
A flood watch means flooding is possible but not imminent. If you are in the watch area, remain alert to possible flooding. Residents and those with interests near the river should monitor rising water levels and be prepared for possible flood warnings. Report observed flooding to local emergency services or law enforcement and request they pass this information to the National Weather Service.
The flood watch for the Grand River at Robinson Township is in effect from Monday afternoon through Wednesday morning.
At 9:15 a.m. Thursday, the stage at Robinson Township was 12.9 feet. Bankfull stage is 13 feet and flood stage is 13.3 feet, when minor flooding begins in low areas.
The weather bureau forecasts the flood stage may be reached by Sunday evening. The river is forecast to reach a maximum stage of 13.3 feet by Monday afternoon.