Anyone in Michigan who is fully vaccinated against COVID-19 does not need to wear a mask indoors or outdoors, according to a news release from the office of Gov. Gretchen Whitmer on Friday.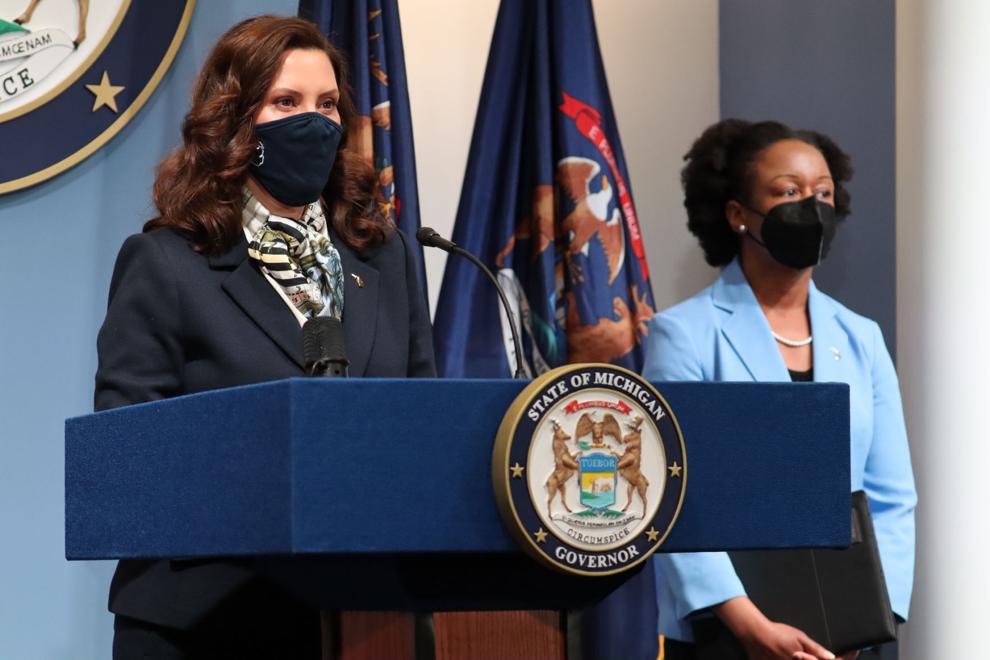 The updated guidance also nixes a mask mandate for anyone who is outside, and all state mask mandates are set to expire after July 1.
The new state order takes effect at 9 a.m. Saturday.
The changes come in light of new mask guidance issued Thursday by the U.S. Centers for Disease Control and Prevention.
"Throughout this entire pandemic, our north star has been data and science from the CDC and our public health professionals. And we are going to continue to listen and trust the experts," Whitmer said in a video posted to Twitter. "After months of getting out the damn vaccine, the data is clear: the COVID-19 vaccines are a miracle of modern science and they work to keep people safe from this deadly virus."
Under the new rule, anyone fully vaccinated in Michigan will no longer need to wear a mask while indoors. People who are not fully vaccinated are required to keep wearing masks indoors.
"This is indeed great news," Ottawa County Health Officer Lisa Stefanovsky said Friday. "The Ottawa County community has been vigilant in following important preventative measures to protect the health and safety of others, and I want to say thank you – it hasn't always been easy! I am happy we can finally take this step of fully vaccinated people removing their masks."
Some retailers will still require masks. Meijer released the following Friday afternoon:
"While we are aware of new CDC guidance, many state or local orders in the Meijer footprint remain in effect regarding masks. In order to help ensure the continued health and safety of all its team members and customers, Meijer continues to require face coverings by anyone entering a Meijer store or Meijer Express station at all locations, except where medical conditions prevent them from wearing one."
Jeremy Swiftney, executive director of the Grand Haven Main Street Downtown Development Authority, said in an email to local businesses that it is within their rights to continue to require masks.
"Please understand, there are some businesses who will be strictly still enforcing the mask rules and requirements, while others will rejoice in ripping the mask off at 8:59:59 a.m. tomorrow morning," Swiftney wrote Friday. "Be neighborly. Be kind. Allow each person and business to set their rules and follow the journey they best see as a fit for the health and safety of themselves, their patrons and their team. With this announcement and the nebulous state of additional information, we are all dealing with stress, and need to all work together to see ourselves through."
Anyone outdoors in Michigan does not need to wear a mask, even if they are not vaccinated. The entire mask mandate is set to expire after July 1, according to the governor's news release.
"It's critical that eligible Michigan residents who have not yet been vaccinated schedule their appointments as soon as they can," said Dr. Joneigh Khaldun, the state's chief medical executive. "Getting shots in arms is the best way to end the pandemic. If you have not yet been vaccinated, it is important to continue to mask up to protect yourself and others from COVID-19."
The CDC defines fully vaccinated as two weeks after receiving the Johnson & Johnson one-shot vaccine or two weeks after receiving the second dose of either the Pfizer or Moderna vaccines.
Up until now, fully vaccinated people in Michigan did not need to wear masks at indoor residential gatherings. There were also broader mask exemptions for small outdoor gatherings and other settings that applied to everyone regardless of their vaccination status.
But everyone still needed to wear masks at grocery stores, movie theaters and a slew of other businesses.
The new order largely tracks with the updated CDC guidance.
"Anyone who is fully vaccinated can participate in indoor and outdoor activities large or small without wearing a mask or physical distancing. If you are fully vaccinated, you can start doing the things that you had stopped doing because of the pandemic," CDC Director Rochelle Walensky said Thursday afternoon. "We have all longed for this moment, when we can get back to some sense of normalcy. Based on the continuing downward trajectory of cases, the scientific data on the performance of our vaccines and our understanding of how the virus spreads, that moment has come for those who are fully vaccinated."
The new CDC guidance still states masks are required for everyone while traveling on planes, buses, trains and other forms of public transportation. The agency also still recommends people who are fully vaccinated wear masks at prisons and homeless shelters.
Dr. Pino D. Colone, president of the Michigan State Medical Society, heralded the state's decision to remove the mask mandate for those who are fully vaccinated. But that doesn't mean Michigan is safe and everything is back to how it was before the pandemic.
"Everyone has been through so much over the last 14 months, and we are starting now to see the added benefits of the COVID vaccine and people getting vaccinated. This is very good news, and we should celebrate it," Colone said in a statement. "Still, it is important to remember that this vaccine does not eliminate COVID-19. It protects us from the disease. As more and more people are vaccinated, more and more people are protected. This must continue to be our goal."
The state does not plan to fully repeal the broader COVID-19 gathering order until two weeks after 70 percent of Michiganders 16 and older have at least one vaccine dose. Given recent drops in vaccination rates, the state is not close to hitting that goal.
As of Thursday, 4.5 million Michiganders 16 and up had their first COVID-19 vaccine dose. That's about 1.1 million people short of the 70 percent benchmark.
The updated order again puts at least some enforcement onus on business owners and staff. It's unclear how restaurants or shops are supposed to verify whether unmasked customers are vaccinated, have a legitimate exemption to the order or are scofflaws.
"As the governor and the Department of Health and Human Services consider adoption of this recommendation in Michigan, we implore them not to put these same employees in harm's way to verify who is fully vaccinated," Justin Winslow, president and CEO of the Michigan Restaurant and Lodging Association, said Thursday. "Deputizing hospitality employees against their will to validate and enforce vaccination credentials is not a step toward that more amicable future."
In theory, businesses could start mandating proof of vaccination in exchange for services. This vaccine passport concept is already in effect to some degree in New York and Hawaii.
The University of Michigan and other local public colleges have announced they will require students to be vaccinated in order to live in dorms this fall.
Michigan Republican lawmakers are vehemently opposed to the idea of passports or vaccine mandates. Hours before the CDC's new guidance on Thursday, GOP legislators in both the state House and Senate took separate steps to make it harder for the state to implement a public vaccine mandate.
However, Whitmer and the health department have repeatedly stated they are not currently considering a vaccine mandate or implementing a passport system.
The Ottawa County Department of Public Health said Friday that it was awaiting further guidance from the state health department, which was expected soon in an updated epidemic order on gatherings and face masks.
"The OCDPH will align with MDHHS orders unless local conditions indicate otherwise," said Kristina Wieghmink, the county health department's public information officer. "Additional guidance from the Michigan Occupational Safety and Health Administration is also expected."
Fully vaccinated people have minimal risk of transmitting the virus that causes COVID-19 to others, Wieghmink added. As of May 10, the data shows that more than 92 percent of cases reported since Feb. 1 have no evidence of any vaccination, and only 1 percent are considered breakthrough cases where the person was fully vaccinated.
"The first COVID-19 vaccine administered in Ottawa County last December gave us hope," Stefanovsky said. "Now with nearly 55 percent of Ottawa County residents receiving at least one dose, we realize how important the vaccine is for bringing our lives closer to normal."