The state health department reported an additional 669 coronavirus cases Tuesday, increasing Michigan's total number of confirmed cases to 79,176.
The state reported 16 new COVID-19 deaths, bringing the statewide death toll to 6,170. Eleven of the 16 deaths reported Tuesday were identified through a periodic review of Vital Records, the state health department said.
The Ottawa County health department on Tuesday reported its first death from COVID-19 since July 13. The latest victim was a man in his late 90s with underlying health conditions.
The county's death toll is now 54. 
The Ottawa County Department of Public Health also reported 16 new cases of the coronavirus on Tuesday, bringing the county's total case count to 1,638, with 1,037 fully recovered.
The state health department reported seven new cases and one new COVID-19 death in Muskegon County on Tuesday, bringing the county's case count to 1,096 and the number of deaths to 57.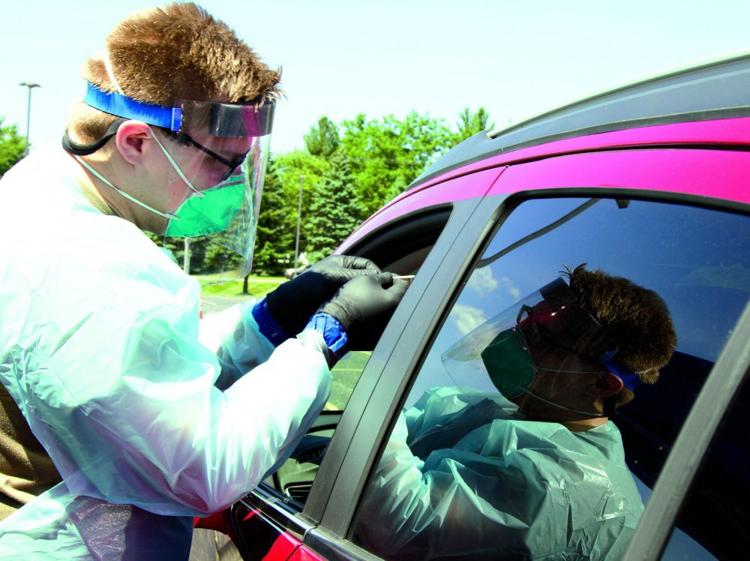 Michigan residents can participate in COVID-19 vaccine study
DETROIT (AP) — A hospital system in southeastern Michigan is looking for up to 5,000 volunteers for a COVID-19 vaccine study.
Henry Ford Health System is working with the National Institutes of Health and Moderna Inc. for 30,000 volunteers in the U.S., with assistance from health care providers.
Volunteers won't know if they're getting the real shot or a dummy version. After two doses, scientists will closely track which group experiences more infections as they go about their daily routines, especially in areas where the virus still is spreading unchecked.
"The Moderna vaccine seems to be very promising," said Dr. Marcus Zervos, Henry Ford's division chief of infectious disease. "In the initial studies that have been done so far, it looks to be safe and has produced protective antibodies at the level of a natural infection."
People who want to volunteer or learn more about the vaccine trial can visit www.henryford.com/ModernaVaccine.
Florida reports more than 9,000 new virus cases
ST PETERSBURG, Fla. (AP) — Florida reported more than 9,000 coronavirus cases Tuesday and a new daily high of 191 deaths.
That brings the total infections to nearly 442,000 and more than 6,100 confirmed deaths, according to the state Health Department. The previous record of daily coronavirus deaths in Florida was 173 last week.
The number of patients treated in hospitals statewide for the coronavirus was steady during the past 24 hours at just over 9,000 — down from about 9,500 a week ago.
Gov. Ron DeSantis planned a news conference Tuesday at an Orlando medical center to discuss the coronavirus outbreak.
Elsewhere:
RIO GRANDE CITY, Texas — Some of the areas hit by Hurricane Hanna in South Texas over the weekend remain among the nation's worst hot spots for the coronavirus.
Starr County in the Rio Grande Valley had more than 1,800 COVID-19 cases on Tuesday. The county's only hospital, which has fewer than 50 beds and no intensive care unit, has been at capacity for weeks.
Hanna's lashing winds and rain grounded medical transport helicopters for days, leaving doctors unable airlift the most critical patients to treatment elsewhere.
Gov. Greg Abbott has said he's worried that the storm forced people to gather in groups indoors to ride it out, which could lead to more virus spread.
Local officials have pleaded with Abbott for weeks to allow face masks and business closures.
Texas health officials on Monday revised their data collection on coronavirus deaths, adding nearly 700 more than were previously reported. The death now toll stands at 5,713.
___
CHICAGO — People traveling from Missouri, Wisconsin, Nebraska and North Dakota to Chicago will have to quarantine for two weeks upon arrival or face possible fines starting Friday.
The latest expansion announced Tuesday brings the total number of affected states to 22.
Chicago officials issued the quarantine order in early July. Initially, it applied to travelers from 15 states but has been updated weekly based on increasing numbers of confirmed cases of the coronavirus.
Three of the five states bordering Illinois are included in the order; Iowa was listed in a previous update. Chicago officials acknowledged Wisconsin's inclusion could be more complicated.
Dr. Allison Arwady, commissioner of Chicago's Department of Public Health, says city residents who work in Wisconsin or vice versa can continue commuting if needed but should limit their activities.
___
BATON ROUGE, La. — Louisiana is cracking down on violators of Gov. John Bel Edwards' coronavirus restrictions.
The state Office of Alcohol and Tobacco Control yanked the permits of four bars found in violation of the Democratic governor's order limiting bars to takeout and delivery.
The agency announced Monday it had suspended permits for bars in Grand Isle, Lake Charles, Gonzales and Harvey after state inspectors found the businesses repeatedly selling drinks to customers who stayed onsite.
The businesses are unable to serve alcohol until hearings to plead their cases on Aug. 5 and Aug. 6. They could face permit suspensions of up to 30 days.
Stronger enforcement comes as coronavirus cases continue to soar in Louisiana. The state, which previously reduced the spread, has one of the nation's highest per capita infection rates.
___
ALBANY, N.Y. — New York's governor is "appalled" by videos showing crowds standing close together at a Hamptons concert featuring electronic music duo The Chainsmokers over the weekend.
Gov. Andrew Cuomo wrote in a Monday night tweet the state Department of Health will conduct an investigation into "egregious social distancing violations."
Cuomo shared a social media video, which has over 6 million views, that showed crowds of people standing and swaying near the stage. The video shows attendees who appeared to be wearing masks, but many individuals were standing closer than 6 feet (2 meters).
The governor, whose state was once the epicenter of the pandemic in the U.S., has told citizens to be vigilant and help keep coronavirus infection rates relatively flat in New York.
___
One of the nation's largest teachers' union is authorizing its members to strike if their schools plan to reopen without proper safety measures in the middle of the global pandemic.
The American Federation of Teachers, which represents 1.7 million school employees, issued a resolution on Tuesday saying it will support any local chapter that decides to strike over reopening plans. The group says school buildings should open only in areas where coronavirus infections are low enough and if schools enact certain safety measures.
The union's president blasted President Donald Trump for ordering schools to reopen even as the virus continues to surge. Randi Weingarten called Trump's response "chaotic and catastrophic," saying it has left teachers angry and afraid.
___
MOSCOW — The president of Belarus says he tested positive for the coronavirus and is asymptomatic.
President Alexander Lukashenko made the announcement Tuesday at a meeting with security officials, the state news agency Belta reported. He had previously dismissed concerns about the coronavirus as "psychosis."
"Today you are meeting with a person who managed to survive the coronavirus on his feet. Doctors made such a conclusion yesterday: asymptomatic," he said.
Belarus took no comprehensive measures against the coronavirus, such as lockdowns or ordering social distancing.
The country has about 67,000 confirmed cases of infection and 543 reported deaths.
___
ATLANTA — Georgia's governor said he's withdrawing a request for an emergency hearing in a lawsuit that aims to block the state's largest city from ordering people to wear masks in public.
Gov. Brian Kemp this month sued Atlanta Mayor Keisha Lance Bottoms and the City Council, who want to enforce a mask order for the city. The Republican governor argues local leaders cannot impose measures that are more or less restrictive than those in his executive orders.
The two sides met for court-ordered mediation Monday. Kemp spokesman Cody Hall announced Monday night the governor wanted "to continue productive, good faith negotiations" and had decided to withdraw the request for a hearing scheduled for Tuesday.
However, that doesn't withdraw the underlying lawsuit.