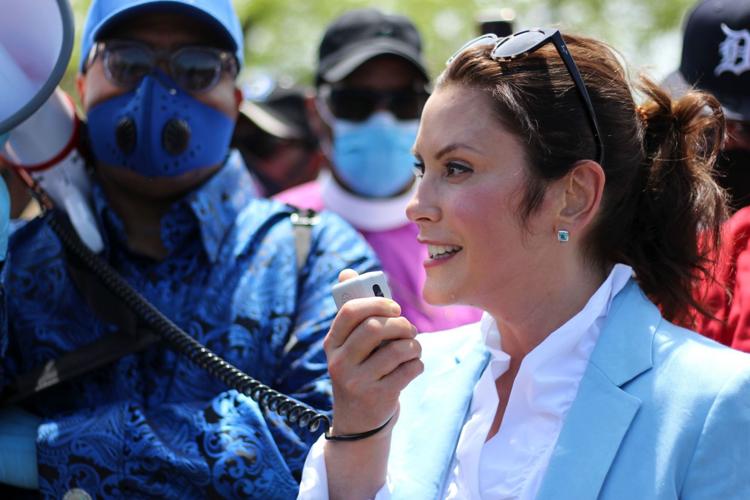 LANSING — Gov. Gretchen Whitmer on Tuesday extended Michigan's coronavirus emergency declaration through Aug. 11, five months after she first issued it, pointing to an uptick in new cases over the past three weeks.
The move, which was expected, allows the Democratic governor to keep in place various orders designed to curb the virus, including certain business closures, limits on gatherings, a mask requirement and longer unemployment benefits.
She pointed to the state's death toll – at least 6,326 confirmed and probable deaths related to COVID-19.
"That's more than 6,000 of our parents, grandparents, friends and neighbors. And the rising numbers we've seen over the past few weeks prove that this virus is still a very real threat in our state," Whitmer said in a statement in which she again urged residents to wear a face covering and practice physical distancing while out in public.
She first issued an emergency declaration in March and has been lengthening it on her own since the Republican-led Legislature – after initially extending it – blocked future extensions due to a stay-at-home order and later sued her.
The state on Tuesday reported 584 new confirmed cases and six additional deaths.
There were roughly 70 new cases per 100,000 people over the past two weeks, a lower rate than all but eight states. Michigan's seven-day case average, about 561, is up from roughly 324 on June 29, according to an Associated Press analysis of data from Johns Hopkins University.
The rolling daily average of deaths is about 14.3, an increase from 9.1 two weeks ago – but still well below the heights hit in April. The seven-day average of positive tests is 2.55 percent, higher than 1.1 percent a month ago.
As more people are tested, an increase in the raw number of positive tests is to be expected. But if the virus is being brought under control, then the percentage of positive results relative to the total number of tests should be coming down.
Sheriff's deputies in the state's third-largest county, meanwhile, will respond to business complaints about customers not wearing masks but will not be actively enforcing the governor's tougher order. Macomb County deputies will treat a no-mask incident as a trespassing violation if a store owner calls for help, the sheriff's department said. If people want to complain about others not wearing masks during the coronavirus pandemic, they should contact the attorney general's office, the department said Monday.
"We hope this clears up any confusion. ... We encourage all to wear a face mask," the department said on Facebook.
Under the measure, violators can face a misdemeanor punishable by a maximum $500 fine. Stores are required to refuse entry or service to people without a face coverings. There are some exceptions from the rule.
In her latest declaration of states of emergency and disaster, Whitmer – who paused the full reopening of the economy – said Michigan "now faces an acute risk of a second wave, one that not only threatens live but may also jeopardize the reopening of schools in the fall." State emergency operations are necessary to bring the pandemic under control, she said.