In his farewell address on Jan. 17, 1961, President (and five-star general) Eisenhower warned our nation about the corrupting influence he described as the "military-industrial complex." The military-industrial complex (MIC) is an informal alliance between a nation's military and the defense industry that supplies it, seen together as a vested interest which influences public policy. A driving factor behind this relationship between the government and defense-minded corporations is that both sides benefit – one side from obtaining war weapons, and the other from being paid to supply them.
The 2019 military budget is over $693 billion. At around $400 million, the Peace Corps budget is less than half of 1 percent of the military budget. It certainly appears like we've ignored Eisenhower's warning about the MIC and we aren't anywhere near giving peace a chance.
Another way to put that $693 billion into perspective is to compare it to the $2 trillion infrastructure plan that the Republicans and Democrats agreed to work on in April of this year. The $2 trillion would be spent over 10 years. If our legislators put this plan into place, we would be spending almost $700 billion a year on the MIC versus. $200 billion a year taking care of our decaying infrastructure.
Historically, it seems that we have looked to youth to lead the fight for peace. In the '60s and '70s, it was American youth who stood up and said enough is enough. In the past few years, we have once again seen youth standing up and being counted.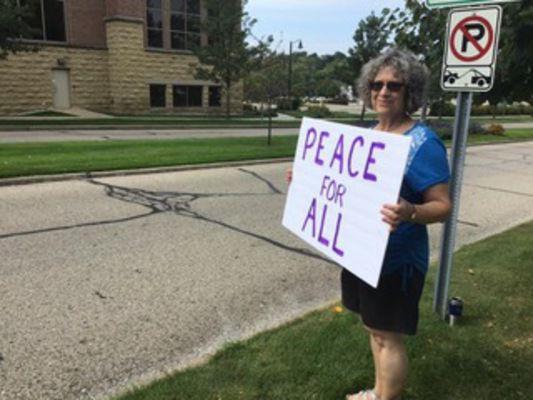 Because she was outspoken about education for girls, Malala Yousafzai, 15, was attacked and shot. Instead of cowering, she refused to back down from the bullies trying to prevent her and other girls from getting an education. It was her courage to stand up and be counted that resulted in tens of millions of dollars being raised to promote education for girls worldwide. It also resulted in her receiving the Nobel Peace Prize in 2014.
When seven students were killed, seven injured and all traumatized by a gunman with an AR-15 semi-automatic weapon at Stoneman Douglas High School, it was the students who stood up and organized the March for our Lives protest. This gathering was put together in less than two months and was attended by more than 1 million people in Washington alone. Their continuing efforts have begun to make inroads into electing officials and pressuring governments to make our schools safer.
In August 2018, Greta Thunberg, 15, started skipping school to strike in front of the Swedish parliament. School-aged kids around the world quickly joined her and the "School strike for climate" began. In 2018, student strikes took place every week somewhere in the world, and in 2019 there were at least two coordinated multi-city protests involving more than 1 million students each.
Whether it is making our schools safer, creating a sustainable environment or assuring that all girls, no matter where they live, can get an education, these examples clearly demonstrate that individuals standing up and saying "we can do better" can make a difference.
That brings us to the Stand for Peace vigil occurring at noon each Saturday at Central Park here in Grand Haven. Inspired by Stand for Peace in Holland, a small group of community members demonstrated their individual courage to stand up and be counted. They demonstrated that leadership comes from our elders as well as our youth. Stand for Peace was initiated in response to the seven wars, 700 military bases and tens of thousands of deaths the USA is currently financing around the world.
On Aug. 10, three spirited Grand Haven women began the weekly vigil encouraging us to strive for peace. Since then, the movement has gained momentum and there are now 8-10 participants each Saturday.
In discussions with two of the regular participants, I learned some of their reasons for being there each Saturday. Chrys Moelter-Gray tells me she sends peace to everyone who passes, and that she hopes to raise people's awareness and concern about the ongoing wars in the world. Patti Baldus was told by a passerby that they weren't going to make a difference. Undeterred, she knows that if just one person reads her sign and remembers, then she has made a difference.
All are welcome to join them any Saturday at noon. If you want to bring your own sign, great. If you don't have a sign, they will gladly provide one for you. If you want to bring a chair and "sit for peace," that works, too. If you can't join them, please support them with a wave and a smile.
Peace isn't just about preventing war; it is so much more complex than that. It's about our ability to care for our neighbors near and far. It's about our children feeling safe when they go to school. It's about the right to an education for all. It's about clean water and air. It's about feeling safe in our homes from those we live with. It's about a roof over one's head and food in one's belly. It's about opportunity to earn a fair wage and provide for yourself and your family. I could go on, but what it is really about is working toward a better world for our children, grandchildren and all future generations.
As we head into the holiday season, may we each find one hour every week to consider peace.