HUDSONVILLE — To get to a district final was one thing. As Grand Haven found out Friday night, winning one is a whole other obstacle.
The wait for Grand Haven to win a district title will continue after the Buccaneers were out-matched by Hudsonville, 35-7. The win for the Eagles was their ninth consecutive win against the Bucs.
"I felt like we got caught in the beginning," Nelson said. "There was some bad execution, and it's hard to get unburied when you're playing a team as good as that."
Grand Haven's chances to pull an upset took a sharp hit on the game's first play, as Connor Worthington fumbled and Hudsonville recovered at the Grand Haven 25. After a pair of first downs, a third-and-goal run from quarterback Ike Irish ended in the end zone from 4 yards out.
The Bucs were held in check by a quick, aggressive Hudsonville defense. On the following possession, Owen Krizan ran for a first down but the drive stalled from there. 
The teams traded three-and-outs until a short punt from Adam Strom gave Hudsonville the ball in Grand Haven territory. Senior running back Davyon Lesure was eager to bounce off Grand Haven tackles, and his 17-yard run paced the Eagles on their way to another touchdown, Irish scoring from a yard out a minute into the second quarter.
Penalties plagued the Buccaneer offense, as runs from Worthington and Owen Krizan were negated by holds. A pair of false starts led to an interception, as Alex Kapala's pass over the middle was intercepted by the Eagles' Nate St. John at the Buccaneer 40. 
Two plays later, Hudsonville wide receiver Brayden Vredeveld made the play of the night. The senior had to leap and adjust to Irish's pass, but caught the ball over a Grand Haven defender in the end zone for a 36-yard touchdown. That gave the Eagles a 21-0 lead into the half, and the Bucs had a mountain to climb.
"You can't create penalties and turnovers," Nelson said. "That type of thing will get you behind."
Hudsonville's plan out of halftime was to possess the ball, and their 7-minute drive out of the break effectively ended the game. After a pair of short conversions on third and fourth down, Hudsonville was still only just into Grand Haven territory. Junior Trevor McEachern looked to bounce near the sideline, but evaded a pair of tacklers and ran towards the end zone. 
His 37-yard touchdown didn't come without controversy, as he taunted a pair of Buccaneer defenders before sliding on his back in the end zone. Grand Haven defenders took exception to that, shoving the running back and earning unsportsmanlike conduct penalties on both teams. Regardless, the run left the Eagles up 28-0 with 4:38 left in the third quarter. 
"They play extremely fast football," Nelson added. "They are very well-coached, they've got some athletes that are outstanding. They've got size on us, and offensively they seemed to be a half-step ahead of us all night. We knew they were great earlier in the year, but we had to play flawlessly to compete."
A second touchdown catch from Vredeveld opened the fourth quarter, again leaping over a Grand Haven defender to catch in the end zone from 11 yards out to get to 35-0 and a running clock.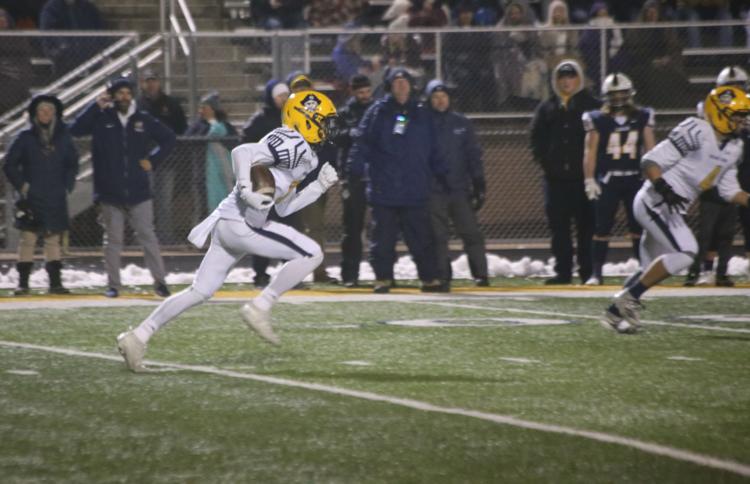 The Buccaneer offense got aggressive, and it paid off on a 59-yard touchdown, as Kapala found Braydon Franz for Grand Haven's sole scoring play. The Eagles recovered the ensuing onside kick, and despite recovering a fumble Grand Haven was stopped on a fourth down in Eagle territory to end the night.
The Bucs were out-gained 307-140, and the Eagles were 8-of-13 on third downs. Worthington led Grand Haven with 55 yards on 7 carries, but Hudsonville had three rushers over 50 yards: Lesure, Irish and MacEachern.
Grand Haven ends their season at 6-5, and were winners of their first playoff game in a decade. Nelson emphasized how important the senior class was following the game.
"They're selfless," Nelson said. "They would help everyone around them, and help the guy next to them. They taught the other kids how to work, and that's what's important.