The Grand Haven girls swim and dive team was at the O-K Red conference meet this weekend and finished third with 353.5 points as a team.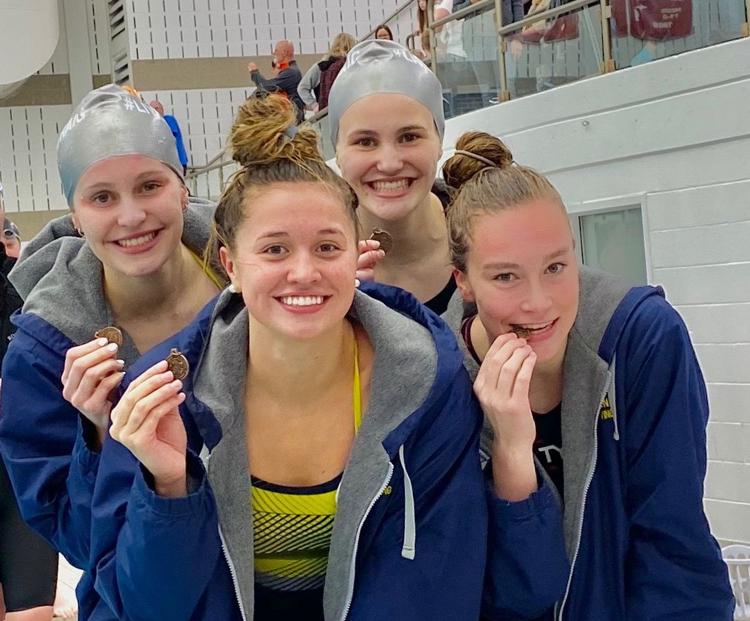 The first event was the 200 yard medley relay. The Grand Haven team of Mary Violet Springer, Kathryn Ackerman, Georgia Basil and Madelyn Hudson finished third in the event with a time of 1:49.80. In the 200 yard freestyle, Ocean Veldhouse and Ellyn Skodack finished third and fourth for the Bucs with times of 1:54.49 and 1:56.57.
Ackerman took first place in the 200 yard individual medley with her near record beating time of 2:01.73. Basil finished third in the event at 2:10.82. Claire Duplissis finished fifth in the 1 meter diving scoring 219.15 points. Ackerman also took first and broke her own pool record in the 100 yard butterfly at 56.29. Alonna Clark finished third in the event with her time of 59.65.
Veldhouse came in third place in the 100 yard freestyle clocking a 53.63. Basil took first place in the 500 yard freestyle event at 5:05.21. Clark followed closely behind, coming in third with her time of 5:11.16. The Buccaneer 200 yard relay team of Veldhouse, Clark, Basil and Jessica Boyer finished fourth with their 1:40.99. Skodack took first place in the 100 yard backstroke at 56.46. Springer and Hudson finished third and fourth with times of 1:00.05 and 1:00.67.
The Buccaneers travel to East Kentwood Thursday to participate in regionals.